There are two golden rules in biking: On the way to Paris, you don't attack the yellow jersey. And second: There is no way past Shimano! That's a bit of an exaggeration … but still, the world's largest manufacturer of bike components and accessories is widely active in the field of bike clothing. But Japanese biking gear is often not the hippest in terms of design, which is why it is sometimes overlooked when comapred to brands like Pearl Izumi, Castelli and Vaude. But let's leave style aside — the most important thing is functionality, after all. It's currently very cold outside, which is perfect for testing a winter outfit! So what does Shimano's biking gear offer for the cold season?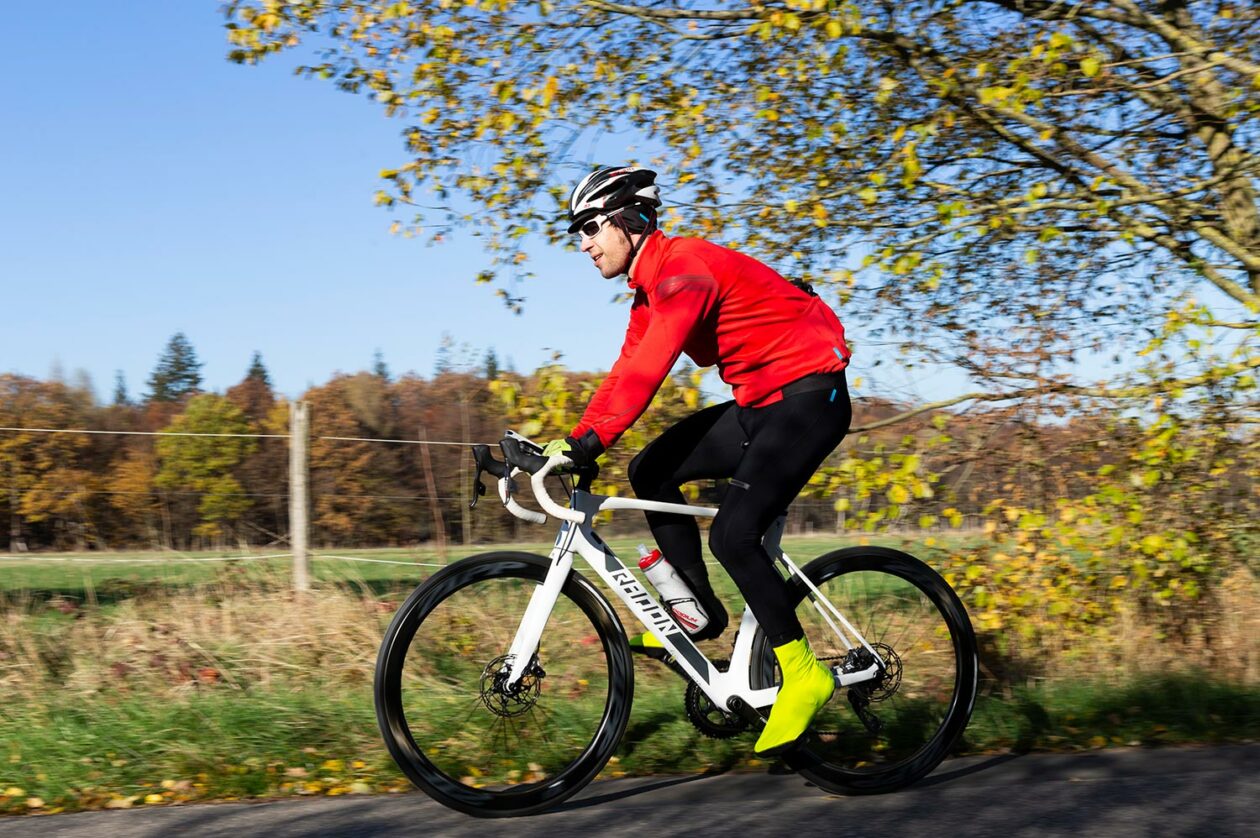 Uhhh, it's cold!
"Winter is definitely not a time for road biking. If you don't want to accept this fact, then you must at least equip yourself accordingly. I personally think that as long as the ground is dry and not lined with too many leaves, grip and other characteristics are fine for riding.
In winter, good clothing should offer extensive protection against the elements and be sufficiently breathable, so that wetness from the inside doesn't become a problem. Shimano had a plan for this — the numerous tags that adorn the articles of clothing should tell you exactly what effort Shimano has put into them.
The latest technologies are used primarily in the current winter jersey. The most striking of these is certainly the advanced Metallic Thermal Tech: The manufacturer states that the fabric reflects infrared radiation emitted by the body to effectively warm the layer of air between the skin and the jersey. It also looks very functional! The water-repellent coating has been improved as well, according to the company. These technologies are part of SHIMANO 37 °C and should therefore be used for thermoregulation. They're also built into the gloves.
On the topic of sizes
As far as size is concerned I have accurately followed the size chart. At a size of 1.79m and 75kg (actually 70kg + 5kg winter fat :-)), I was classified for shorts and jerseys of the L size. They fit really well!
Size charts are always a difficult topic, as many manufacturers don't follow them exactly. Therefore it seemed important for me to point out that this is different with Shimano, and to point out the value that reliable orientation aids offer. This is because bike clothing, especially road bike clothing, must simply fit perfectly, as otherwise it cannot perform its function effectively.
I also decided on overshoes and gloves according to the respective size charts — and both fit nicely.
My impressions
Winter Thermal Jersey
Its fit is well suited for a warm winter jersey: not too tight, but not too wide either. Winter bike clothing should simply not be as tight as summer clothing. Due to the wide waistband, the Winter Thermal Jersey sits firmly and doesn't slip. The collar closes well, so that no air can get through, but also not too tightly, so it doesn't feel unpleasant. The construction of the back is striking: While Metallic Tech is used under the pockets (which looks quite fancy from the inside!) in order to generate heat and keep your kidneys warm, a black strip up to the collar serves to transport away the resulting moisture.
The arms have the right length, they don't slide up on the bike — even in a low bent position — which would otherwise create an unpleasant thermal bridge. The back pockets are easily accessible and offer sufficient space. The special water-repellent coating on the fabric can be felt by the hand. On the inside, the material is brushed, the zipper is backed with fabric and the front seams are taped. This offers some protection against water, keeps wind out and keeps you warm.
The jersey works for me up to 3°C in combination with a long-sleeved functional windbreaker shirt — underneath that temperature, it could get uncomfortable. But I haven't been able to test that situation yet. A simple wind vest as additional protection is all I need on descents. In this constellation, evaporation is also maintained, which is important. Otherwise one would be permanently wet after just a small exertion — I know I would be.
But for lower temperatures you would clearly need a real jacket — which I would only wear with a long undershirt. Whenever I wear three layers on a road bike, the lowest one is guaranteed to get wet.
Winter Bib Tights
Winter Bib Tights alone would do. For the tights, the same is true as for the jersey: they warm and protect sufficiently — it doesn't get cold even in the sensitive upholstery region.
The bibs fit well and the mesh material allows moisture to escape. It was always the first to get sweaty whenever I wore the previously mentioned double bib setup of my former winter outfit. The zipper at the belly is super practical, as the classic bib shorts problem when urinating is eliminated this way! And you cannot feel it while riding, so it doesn't bother you at all. The zippers at the leg ends are practical, as well: They clearly make dressing easier. There are reflective elements, too, but there could be more. The pad fits well. It is pre-shaped, has good strength and is neither too thick, nor too thin for winter bib tights.
Windbreak Reflective Gloves
For a winter glove, the Windbreak Reflective seems rather thin. Of course this is good in terms of handlebar control, I thought. But won't it get too cold? No worries. The missing thickness is deceptive. Shimano has found a good mixture of windproof fabric and brushed material on the inside, which allows warm fingers for up to 0°C, as well as great handling of the bike.
Discreet pads provide comfort, so that even longer distances are no problem. The workmanship is fine. You can feel that the gloves are robust enough to take part in some winter biking seasons. You can even operate touchscreens with them — whether you use a smartphone or Garmin.
S1100R H2O Overshoes
Shimano's size recommendation is applicable here, too. My size 44 Sidi cycling shoes easily fit into the overshoes of size L (42-44). Putting them on works well: First, the toe goes in and the cleat slips into its dedicated opening. Afterwards, you pull up the heel, close the zipper and the Velcro — done! Ever since I got to try the overshoes, my favourite part of the product description makes perfect sense: 'The anatomical 3D cut of the toe box matches the shoe'. I couldn't agree more.
You can immediately feel that with the S1100R H2O overshoes on, no water can penetrate. Their material is resistant, but still flexible enough to allow pedaling movement and not cause any problems. They fit tightly on the legs, too, which is important, as water could come in this way. This should be avoided, as otherwise things will get really wet — even in little rain.
Cold feet haven't been a problem so far either, with tours from just above zero to approx. 8°C. The overshoes offer protection and do exactly what they are supposed to do. According to Shimano, they're suitable for a temperature of up to of 0°C. I can confirm that.
Clearing up a general misunderstanding about overshoes: Their material is waterproof, but that doesn't mean that your foot won't ever get wet when it rains! The sole of the overshoe is open, which it has to be, because of the cleat. If it rains properly, water comes from everywhere — even from below. But even then the overshoe protect against cold, since wind, which would evaporate the wetness and let it get cold, still doesn't penetrate.
My Shimano winter conclusion
The jersey in particular impressed me. A simple design, good workmanship and great overall package of warmth and protection are combined with a great fit. At the current price of 74.95€, the Winter Thermal is certainly a recommendation.
The pants also provide decent warmth. Shimano specifies a temperature range of up to 0°C. That is a bit optimistic, I think. At the latest at 3 – 4°C you do need more protection, like a windproof membrane. Here, too, fit, performance and price are just right. The RRP is already fine; the current price point is wonderful for winter bike shorts. The accessories have also left a good impression: They were designed with functionality, robustness and no unnecessary twists — so they do exactly what they should.
I was positively surprised: Shimano clothing can be a good alternative to the expensive, big brands in the field of bike apparel.
Finally, even though there are reflective details, there could be more and they could be more present — especially in the pants. Because in today's traffic, this is a must! The only thing that stands out in this regard are the overshoes, but we are talking about the Hi-Vis version here, so that shouldn't surprise anybody".