Many mountain bikers 'sit between the helmets'. What exactly does that mean? Well, a fullface helmet would be the most fitting down the trail, but too heavy and too little ventilated for the times in between. For the gravity fraction, it is obligatory to decide between fullface or half shell. But that's the dilemma between maximum safety, the best possible ventilation and the right weight!
As a gravity specialist for MTB clothing and equipment, Fox Head knows about this problem — and they have taken care of it! With the Proframe, the company offers the necessary compromises and wants to simplify the decision for mountain bikers. Marcel has tested for us whether they succeeded in this endeavor.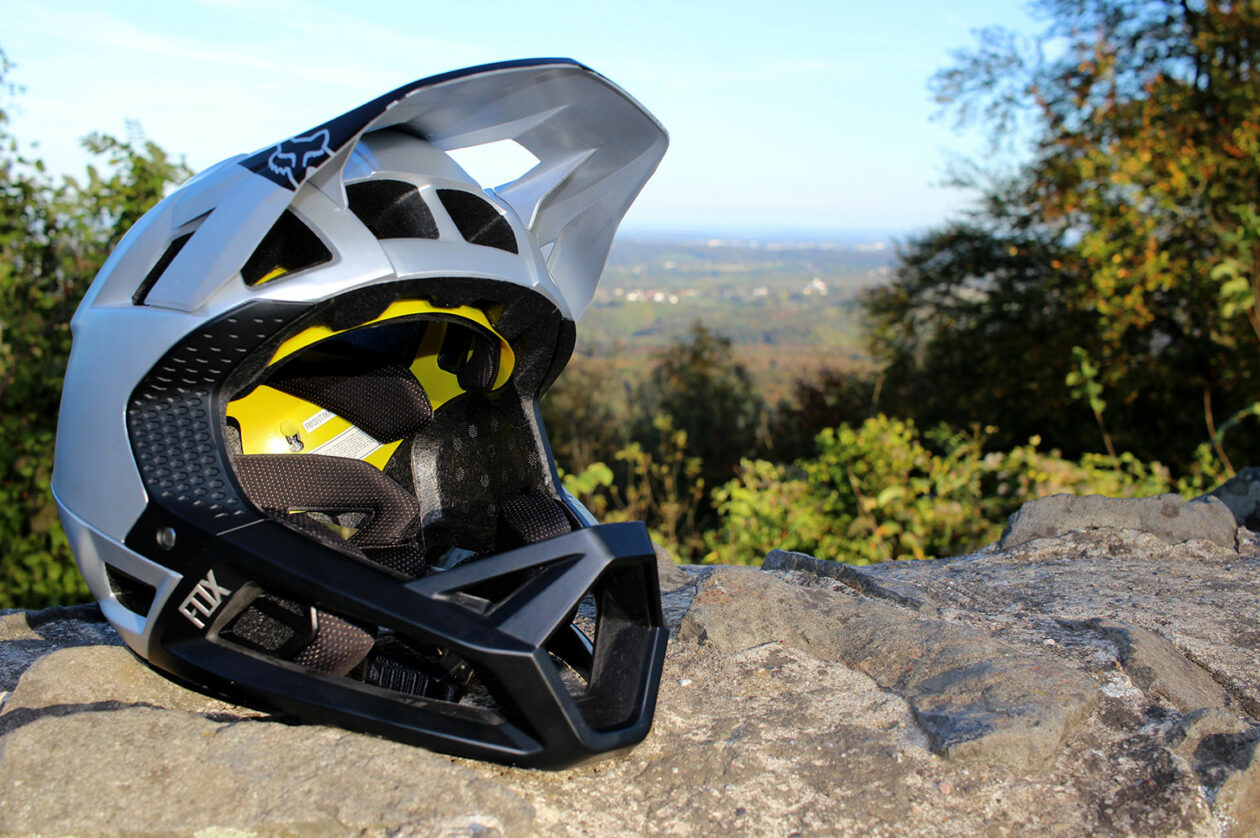 Fullface = full protection = full action?
"My very first fullface helmet comes with downhill approval?! Is that really necessary? After all, my tours don't just go downhill. Pedalling up the mountain is not just a small part — it takes a lot of time! Because of their better ventilation, I have mostly used half shell helmets so far. Whenever I knew that I was going on new, possibly more demanding trails, I might have attached the chin strap to my helmet, but never otherwise. Although it would be a big advantage in most downhill situations to have fullface protection. But these helmets are simply too heavy and too poorly ventilated when going uphill.
Fox intended to close this gap with the Proframe. Their declared goal was to build a helmet that offered the full protection of a fullface helmet together with ventilation comparable to that of a half shell helmet. Has Fox achieved this goal? Answering that question was the focus of my test. In order to really get to know its ventilation properties, I wore the helmet for several months, at different temperatures. Thanks to the hot summer this year, there were just the right conditions for such a test!
The Proframe's essential features
currently the lightest helmet with downhill approval at just 750g
chinstraps attached to the helmet frame via patented method for even more safety
fidlock closure for easy opening and closing, even with gloves on
MIPS technology for reducing rotational forces in the event of a fall
numerous helmet pads included to allow adjustment of the perfect fit
24 Big Bore ventilation slots for fresh air
highly breathable lining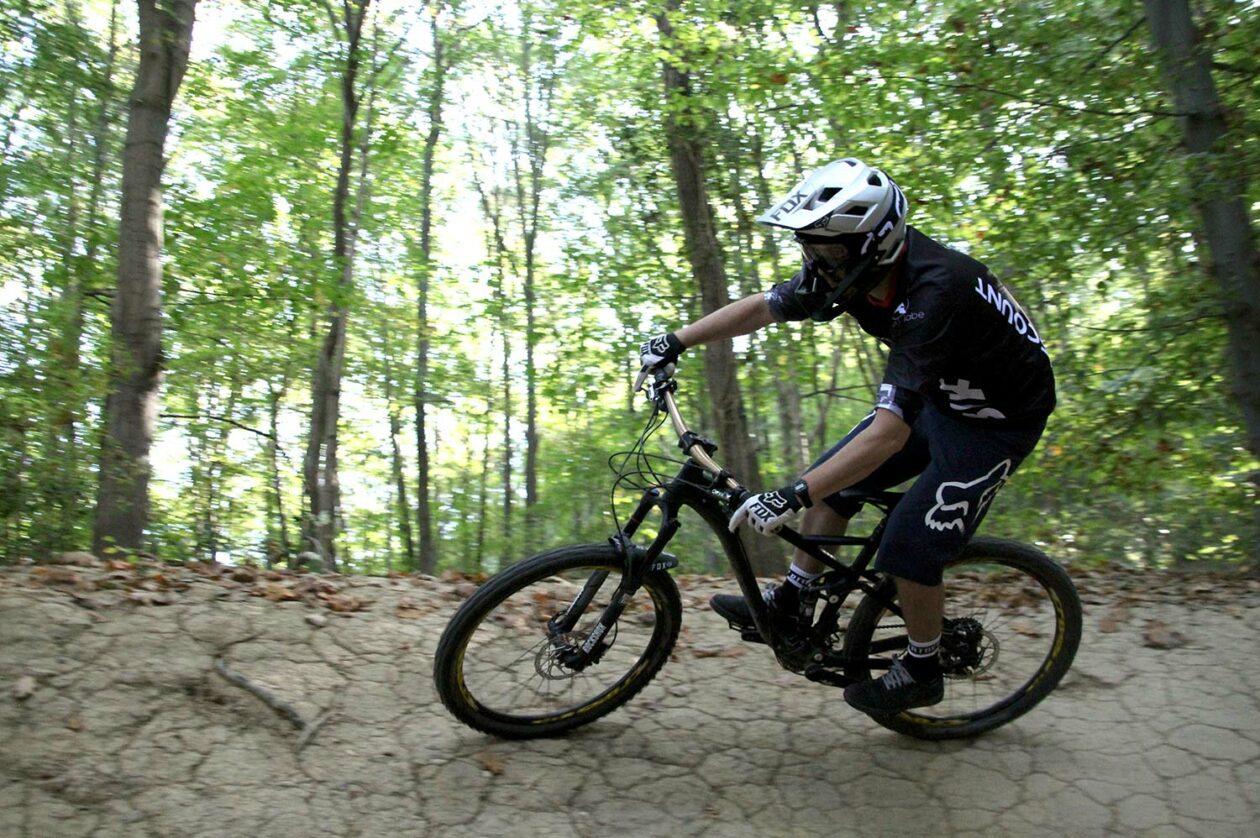 On the trail
Everyone knows it: the special 'helmet feeling' regarding safety when putting on a helmet. Sometimes you feel safer, in other cases you feel less safe. With the Fox Rampage, you immediately feel like your head is virtually indestructible. But if you put on the Metah, you can sense that you could get hurt if you fall.
Considering this feeling, the Proframe lies in the middle. You can feel that your entire head is well protected, but he doesn't convey this 'invincibility feeling' — which he doesn't need for Enduro or All Mountain use, however.
I experimented a bit with the different pads and quickly found the perfect fit for me. They are easy to use and well fixed. The closure is nice, too: put the helmet on, close the Fidlock snap with one hand and off you go. The goggle also fits like a glove; the view is optimal. The low weight and the good fit make you almost forget that you're wearing a helmet! Jumps, roots or stones: the helmet always sits as it should and you can concentrate on the trail completely.
Taking off your helmet and hanging it somewhere on the handlebars when going uphill is annoying. Also, that's not exactly safe! Even when riding uphill, a fall can have bad consequences, even if you don't go very fast. That's why I like to keep my helmet on my head when it goes up again.
I must say that there is no big difference when comparing the Proframe to half shell helmets. Although riding up a mountain with a fullface helmet on, at a speed of 10 – 15 km/h, does take some getting used to. Nevertheless: the ventilation works. And I can say that even after this summer, in which 35 °C in the forest was no rarity. That was partly a pretty sweaty affair, but heat didn't accumulate under the helmet even then.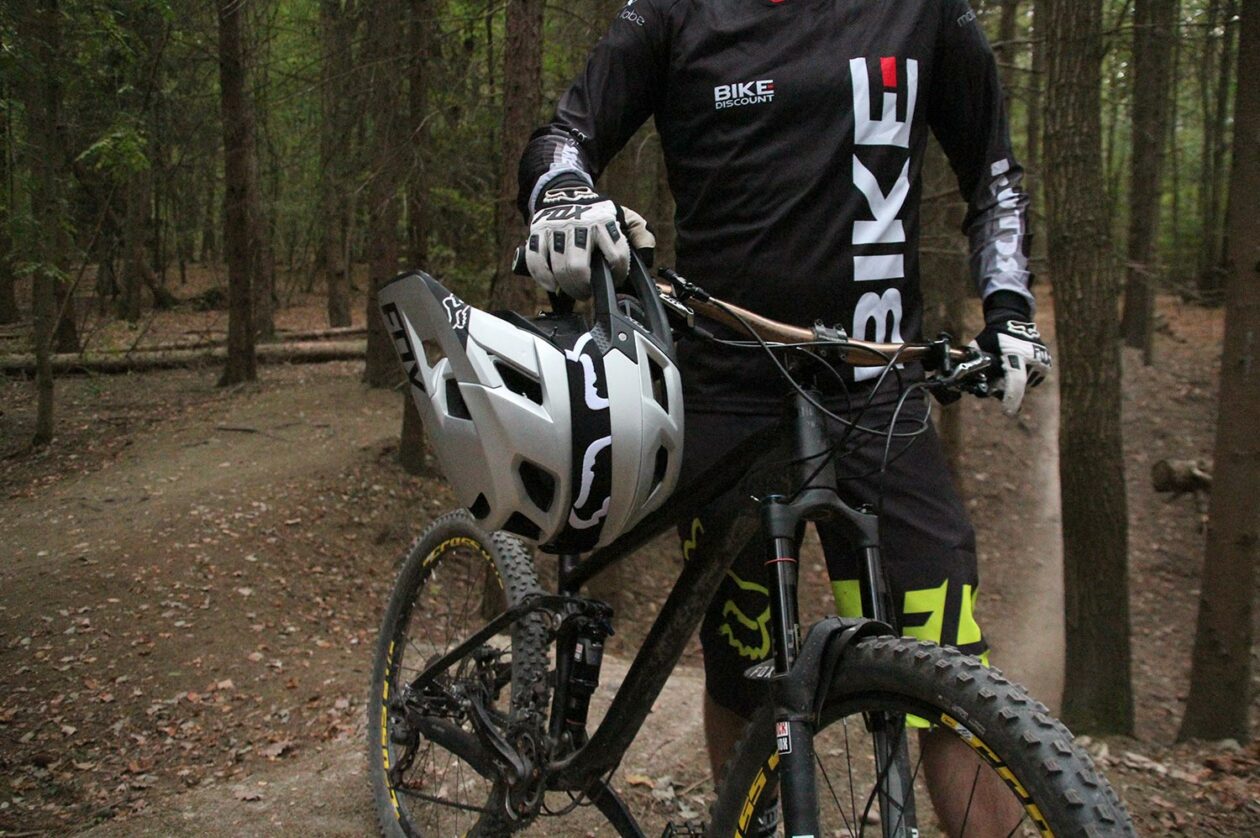 The right frame of mind? My Proframe conclusion
In my opinion, Fox has managed to close the enduro fullface gap completely. I don't need a Rampage for my trips, as it's ventilation is bad and the helmet is extremely annoying whenever it doesn't go straight down. But for some passages I did want to have a fullface helmet for quite some time now. In addition, some bike parks only allow riding with full face helmets.
For excursions into the local forest, on new trails and known trails with new jumps, the Proframe is now my steady companion. The feeling of safety on the trails convinced me completely. The ventilation and the transport of breathing air are perfect uphill and the low weight is absolutely awesome. The Metah, a classic mountain bike helmet — half shell, of course — weighs approx. 400g, Leatts DBX 3.0 All Mountain does, too. Considering this, 750g is certainly a statement!
Unfortunately, after three quarters of an hour at the latest, you still feel the desire to take off your helmet. I don't know that feeling from half shell helmets, but their construction includes a dial at the back of the head to loosen the fit — something a fullface helmet naturally doesn't have. And no matter how light and top-ventilated, a fullface helmet encloses the complete head after all, which annoys sometimes. But this is no problem thaht only the Proframe faces.
So the performance is just right — but what about the price? The Proframe is expensive. Not more expensive than comparable models of other brands, though. For fullface you simply have to dig deeper into your pocket. And the price for MIPS helmets is always higher, too. And they're also safer! As far as helmets are concerned, MIPS is currently the measure of all things. As such, the Proframe is certainly worth its money.
It's available in different colours — and also in a women's version! Shred the trail → #bisbaldimwald!"