Whether you ride or not, taking care of your bike is important in autumn and winter. If you ride, remember: there is hardly any ride – whether MTB or road bike – that is not dirty. The field of bike cleaning products is broad, as there are many manufacturers, lots of little remedies and even more little helpers. But what do you really need? Let's ask an expert about dirt!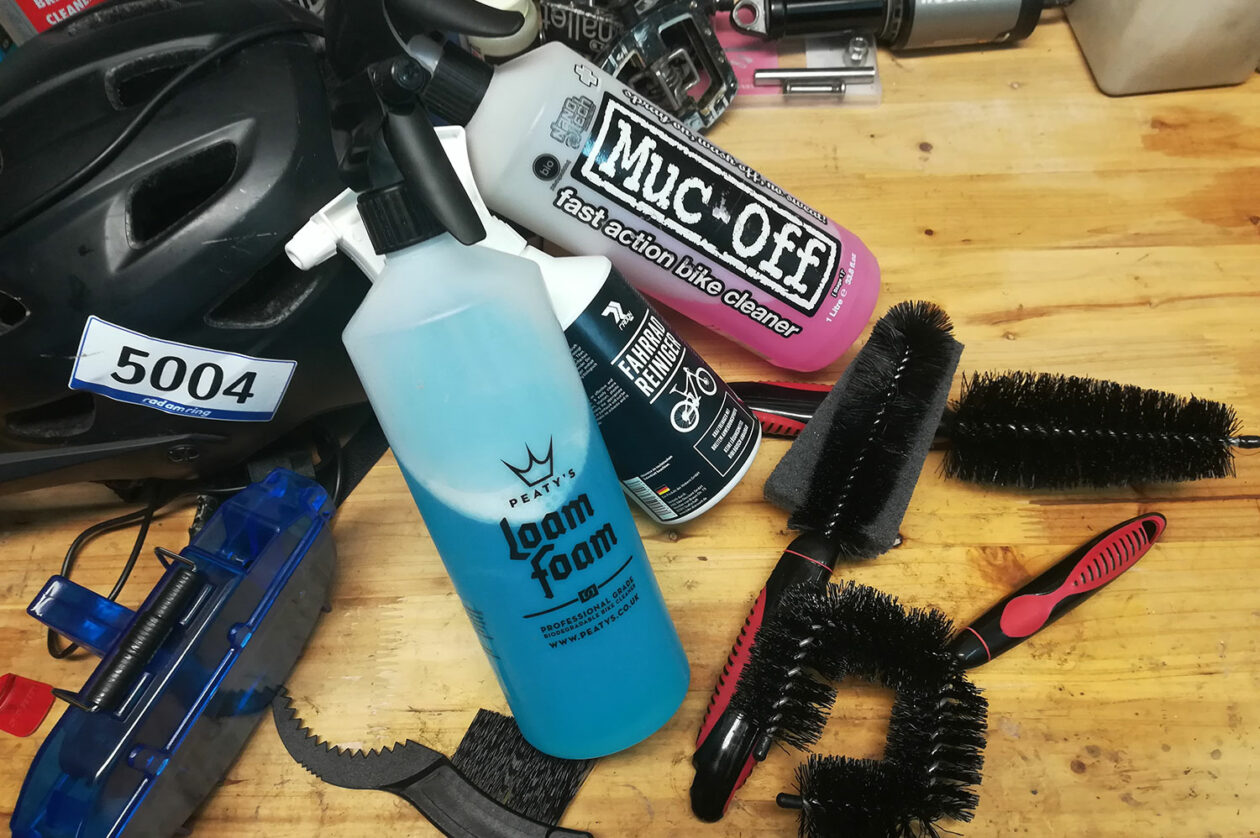 Bungi washes … his bikes
"Washing your beloved bike after a muddy or rainy ride is just as important as showering is for yourself. With so many cleaning products on the market, you're spoilt for choice. That's why I decided to test three products from our range over the course of a year in order to find out which one was the best. I washed my own bike as well some of the kids' bikes from my racing team.
The cleaning candidates
I chose the top dog by Muc-Off, our bike cleaner from Radon and the light blue Peaty's Loam Foam. In terms of price, the three of them don't make a lot of a difference, neither in the small packages, nor in the canisters. They all promise powerful cleaning and are biodegradable, which is important to me.
Something of note: How you clean your bike is of course up to you – HOWEVER! Do not use high pressure cleaners! They may be quick and the bike looks clean in no time, but the bearings will resent you.
I clean my bikes after every muddy or rainy ride. The advantages are that you have clean fingers when screwing, you can see if something is damaged or missing, and the components will thank you for your act of love with longevity and reliability!
My tricks for washing
The way I clean my bikes is no witchcraft! I grab my bike rack, put the bike in and spray it with the cleaner. Since you have to wait for 3 to 5 minutes after applying it, I use that time to prepare a bucket of warm water. I pour in a small sip of the cleaner and dip the brushes into it. After the waiting time I grab the garden hose and spray the bike — not thoroughly, just to get the more coarse dirt down! Then I take the brushes and clean the bike with them. I use the different brushes from the set for different parts. A small sponge gets to places where brushes and cleaners can't reach. All three cleaners did their job well. You can read the small differences in the overview below. Dirt and other residues were effectively removed, even oil is no problem.
Once I have brushed off all the parts and components, I grab my garden hose again and spray the bike thoroughly. Then I let it dry for a few minutes — but not in direct sunlight! To get a nice finish, I take a microfiber cloth to dry off the bike and the components.
Maintenance & care
In addition to cleaning, caring for the components is important! 'If you lubricate well, you ride well' – this saying has certainly been used by every biker before. And there is nothing to be said against that! If you clean and oil your chains regularly, you will have more time with them. But other components, like the rear derailleur, front derailleur or the bearings, are always happy about some care, too! I may be a freak, but I disassemble my bike in order to check everything out after every second race. That's how I've crossed finish lines without technical defects in years! This year I made use of our Radon maintenance kit.
The chain: I didn't notice a big difference in chain oil products. I clean chains in two steps: In step one, I clean a chain normally with chain cleaner and cloth. Of course I try to clean it as much as possible with this method! After that, I use a chain scrubber, but without applying more chain cleaner — the residue of step one will do. I let the chain run a few revolutions in the device, as the brushes then loosen the dirt in any gaps. In my experience, using a chain scrubber along with more chain cleaner is unfavourable, as you just can't get the stuff out of the brushes afterwards.
After a few minutes of aeration, I take an old rag and rub the chain dry. If there is then still dirt on it, the chain will be worked again with the brushes from the set. After successful cleaning, the chain is reassembled and sprayed from the inside with chain oil. Then I shift through all gears once and let the chain oil draw into the pins for a few minutes. Excess oil will simply be wiped off with a cloth at the end — then the chain will be ready!
The final steps: To lubricate the joints of the front derailleur and rear derailleur, I use the multi-oil. Simply spray a small amount of it onto the joints, bolts and screws. Excess oil will then just be rubbed onto the component.
To avoid problems with the brake, I clean the discs break rotor with brake cleaner, as the disc brake rotor could have come into contact with unwanted oily remnants during maintenance and oiling."
Overview of Bungi's bike cleaning favourites
Very good cleaning power
Biodegradable
Refillable → 5 l canister
The sprayer is too fine
Odour needs getting used to
Price & performance: great
Very good cleaning power
Biodegradable
Refillable
Leaves streeks behind
Further products are available, which work well together
Price & performance: okay
Very good cleaning power
Biodegradable
Refillable → 5 l canister und 1 l concentrate
Very good sprayer
Adheres well — therefore just a little is needed!
Price & performance: okay
Good handling of the individual brushes
Good workmanship
Chain ring brush also suitable for 12-fold cassettes
Price & performance: okay
Cleaning in 2 stages
Good cleaning effect
With handle
Easy to use
Foam insert can be turned out
Hard to clean the brushes when using chain cleaner along with them
Multi Oil

Cleansing and lubricating
Doesn't attract dust
Precise sprayer

Chain cleaner

Very efficient → low consumption
Good cleaning power

Chain oil

Easy to handle
Precise sprayer
Good lubricating properties