Since 1988, the lightweight specialists at Zipp have been manufacturing high-quality carbon components. The focus lies on road bikes, with Zipp being a household name in the international pro cycling scene as the brand of choice of numerous teams and riders. The company has its origins in Speedway, Indiana, and is now located in the state's capital Indianapolis. Zipp started out as a producer of carbon wheelsets. Today, they offer a whole range of components — whether made of carbon or other materials. Aluminum bike parts have been available since 2010.
So Speed is the way of life Zipp stands for — even if the company is no longer situated in Speedway :-). Their slogan matches this spirit: Zipp Speed Weaponry! We wanted to take a closer look at what's really behind their carbon components and their excellent reputation. With that goal in mind, there was nothing more obvious than to equip our test bike with carbon parts from Zipp's high-end range and ride a few miles.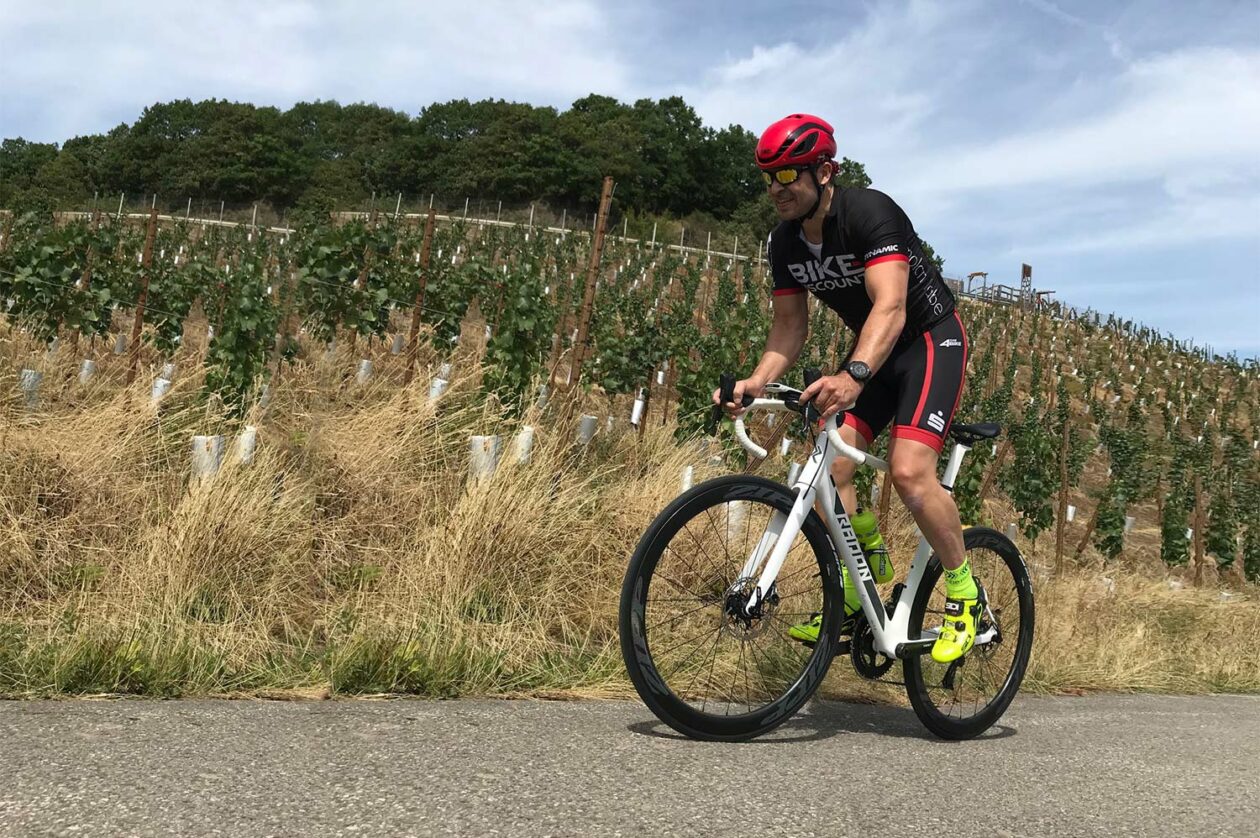 The test bike
Carbon components do, of course, need an appropriate frame. May we present … a Radon dream in carbon! The frame is a trial model which is almost identical to the current Vaillant frame. Only some details are different, e.g. the dropouts, and the colour does not match the colours of the two actual Vaillant versions. The frame weighs in at just 1263 grams in size 53 (cm).
However, the equipment we chose differs completely from that of the Vaillant models. What we aimed for was a bike assembled with exceptional components, which we wanted to test individually and in interaction. In addition to the Zipp components, that you can read about in this review, the bike features SRAM's Red eTap with hydraulic disc brakes. And a Garmin Edge 1030 to test if the data produced by the bike can actually be displayed.
Our only rule regarding the Radon test bike was: If you want to ride it, take it and go as far and fast as you want and can. Guido, among others, did so.
Guido tests Zipp's carbon line
"We went for the full package: Exquisite carbon wheels with matching stem and handlebar of the same material —the material most passionate cyclists' dreams are made of. Naturally, I was particularly excited about the wheels. Would they be able to justify their price with a corresponding performance?
Rim witdh: 28,5mm
Rim depth: 45mm
Dimension (ETRTO): 21-700C
Valve hole: SV (6.5mm)
Spokes: 24
Spoke pattern: 2-cross
tubeless ready
Disc standard: Center-Lock
Max recommended system weight: 115kg (body weight + bike + equipment)
Material

Rim: Carbon
Hub: Aluminium
Spokes: Edelstahl
Nipples: Aluminium

Weight (manufacturer information)
The weights indicated by the manufacturer correspond with reality. We measured 803g for the rear wheel and 712g for the front wheel. That's plausible and shows that Zipp tries to use exact values — very laudable.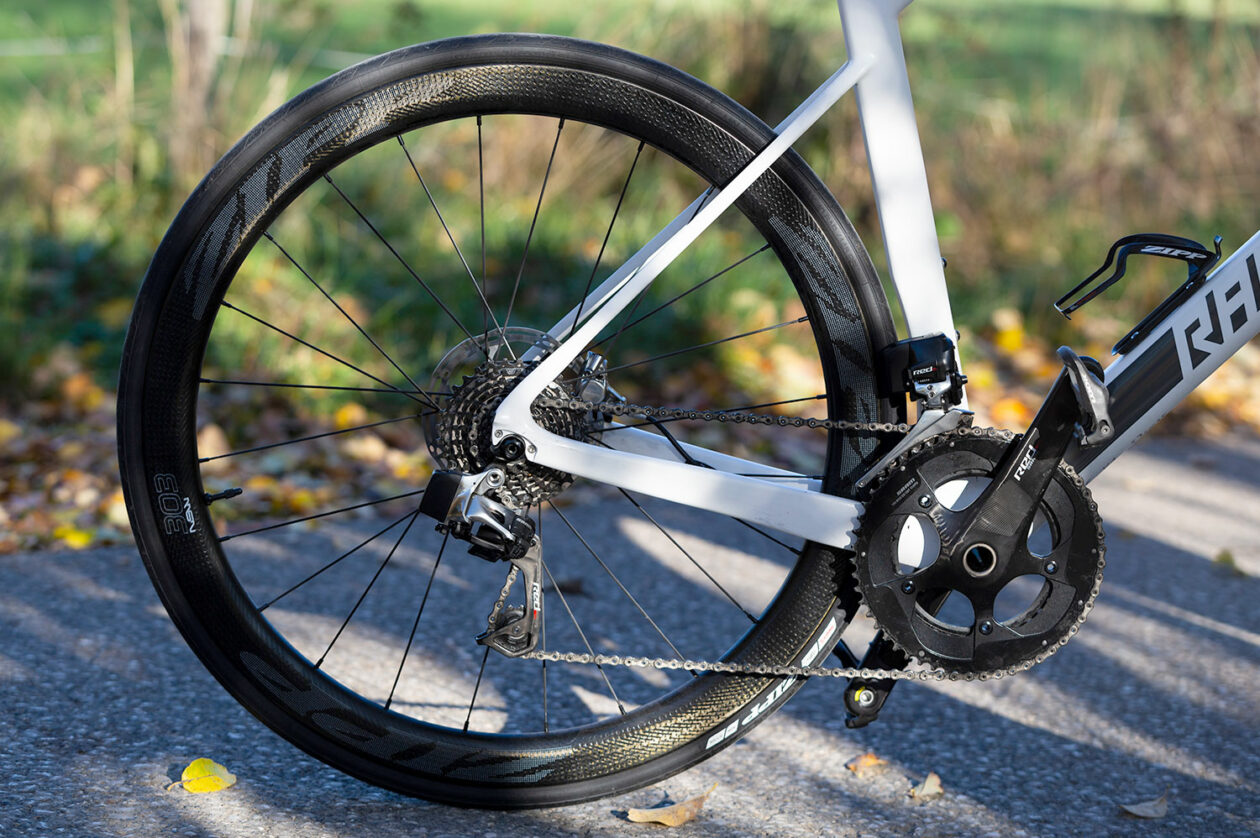 Firecrest technology
The Firecrest technology was self-developed by Zipp. The whole thing is high-level in terms of engineering, i.e. it deals with values and physical concepts that we as normal people, don't understand.
But that much can be said: At Zipp they realized at some point that it does not make sense to concentrate exclusively on the front half of the wheel and that it's worth the while to pay more attention to the rear half. Before Firecast it was like this: The only thing that was ever looked at was how the wheel behaved in the wind. And not, so to speak, how the wheel moves out of the wind.
Zipp changed that and reshaped their rims accordingly. Firecrest rims have a less pronounced curvature and maintain an almost constant width almost down to the rim well. According to Zipp, this makes them more aerodynamic overall and less sensitive to crosswinds in particular.
Since I have already used aero wheels before, I have some point of comparison. And I have to say, Firecrest really works. There is no susceptibility to crosswind, the wheel can be steered perfectly even in such conditions. In terms of aerodynamics, the 303s feel good. Of course I can't say how much power they will actually save you, but what I can say is: they're fast and they're light! If you consider that the weight of a wheel counts twice — it contributes to the total mass of the bike, and it has to be rotated — and that there's still more aero wheels! Their better performance in the wind, meaning less resistance, comes on top!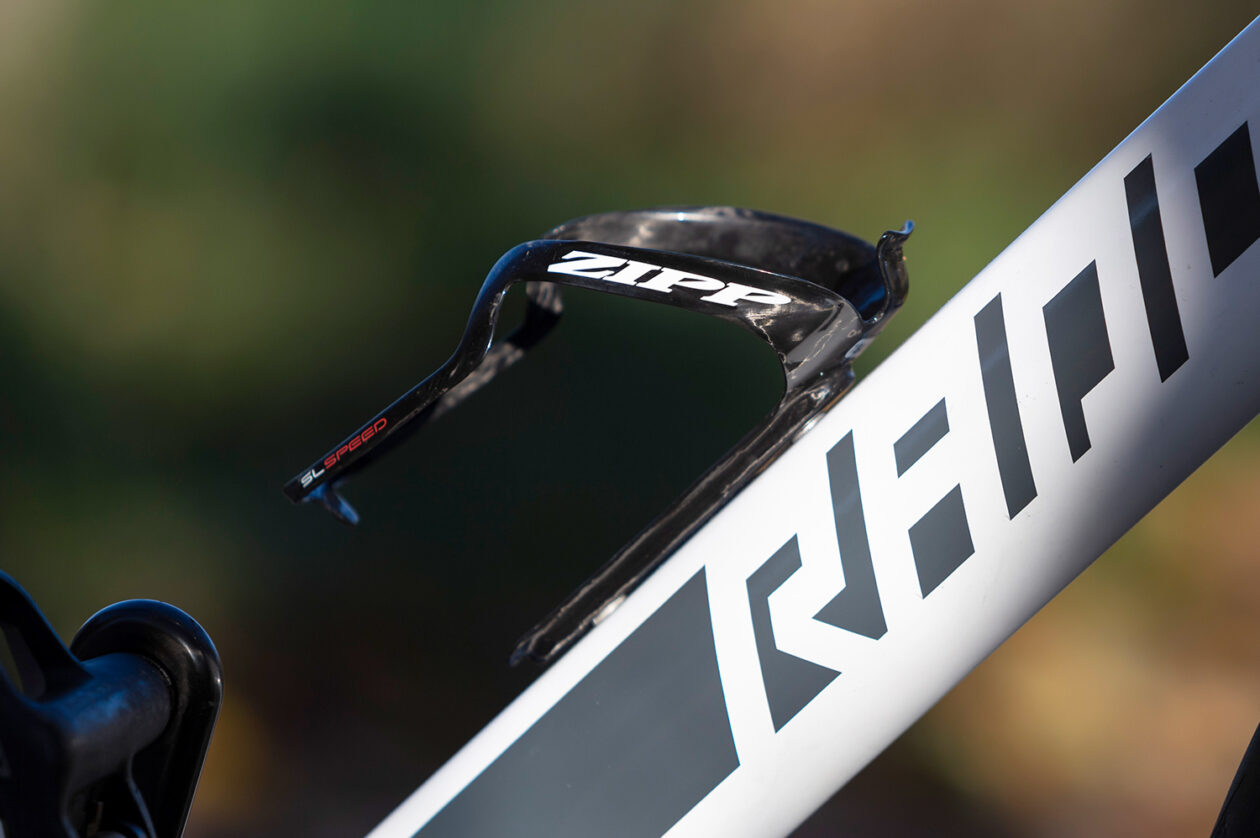 Robustness check
These rims simply feel beautiful, you can sense the high-quality workmanship. They also look good. Zipp uses a special printing technique for the graphic elements which makes them more durable — and it's obvious. In addition, Zipp claims to have improved the airflow management, which of course can only be verified in the laboratory.
Zipp didn't produce the 303s as pure competition wheels, but states that they are designed for daily training and can even handle rough surfaces like cobblestones.
This is true up to a certain rider weight, which probably lies just under 80kg. Above this weight, you may experience difficulties. The spoke tension is good, the wheels make a safe and robust impression — even with potholes or other inconveniences. After my several outings, I couldn't find any play or signs of a lateral or radial runout.
What I did notice — negatively — was that the rider weight limit for the 303 wheelset seems to be rather low. If you weigh more than 80kg, you will feel a difference when riding out of the saddle. The wheels feel 'soft'. A colleague of mine, who simply carries more weight with him because of being tall, had the same impression: Under full load they lack stability.
Tyre choice
We used the clincher version of the 303 wheels and equipped them with the Zipp Tangente Course R25 tyres. With 25mm, they are already on the wider side. Remember the times when front wheels used to have 19mm tyres as a standard …? However, the weight of about 180g is still okay.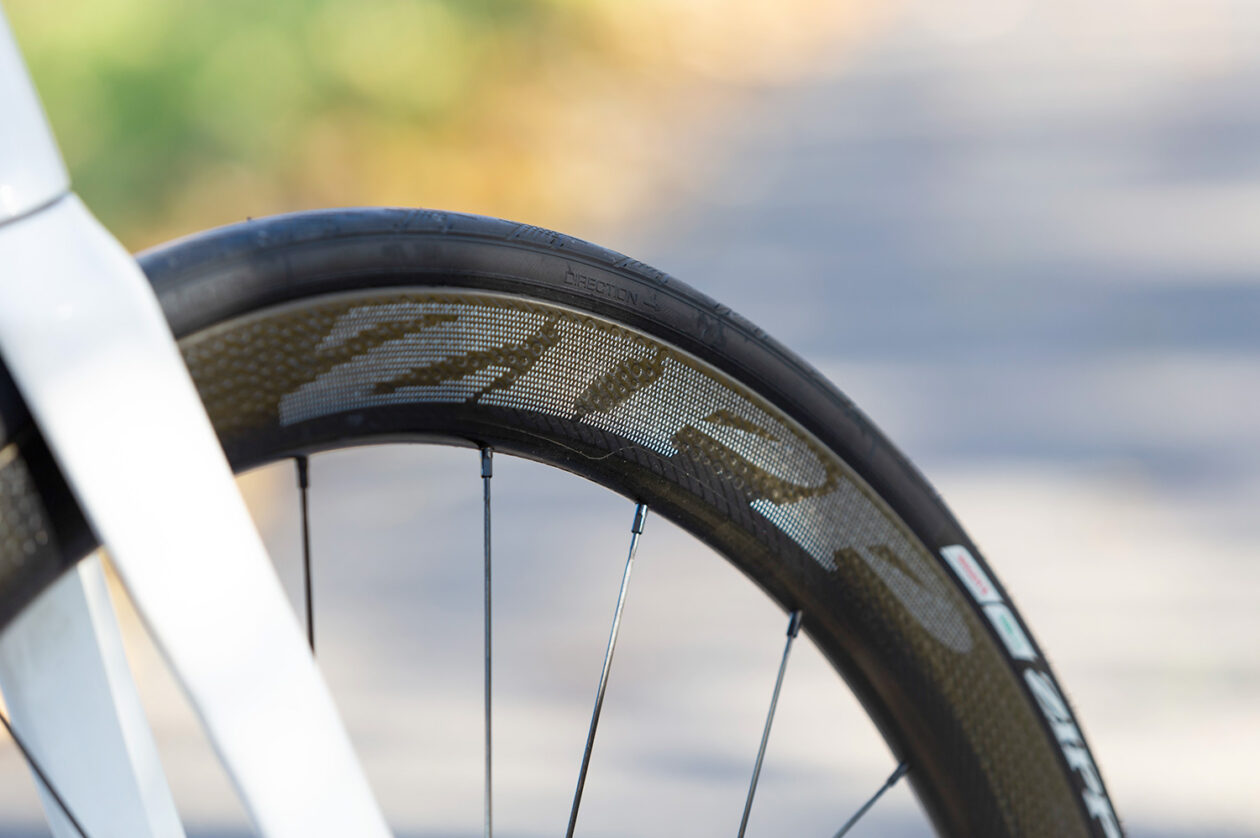 In dry conditions, for which they are designed, the tyres have sufficient grip. It is also possible to ride them in wet conditions but there are certainly better options if that's your main concern. Handling and grip are good, even in curves and near to the edges.
Since Zipp also offers a tubular version of the wheelset, allow me to digress a little: Tubular tyres are faster. They are lighter than the combination of a separate tyre and tube and, at the same time, they offer a similar level of puncture safety. Being glued onto the rim, however, they are not as easy to handle in case you have a damage. Replacing them is a rather laborious task which is one of the reasons why they are mainly used by professionals. Most of the boys and girls just don't have to repair their tyres themselves.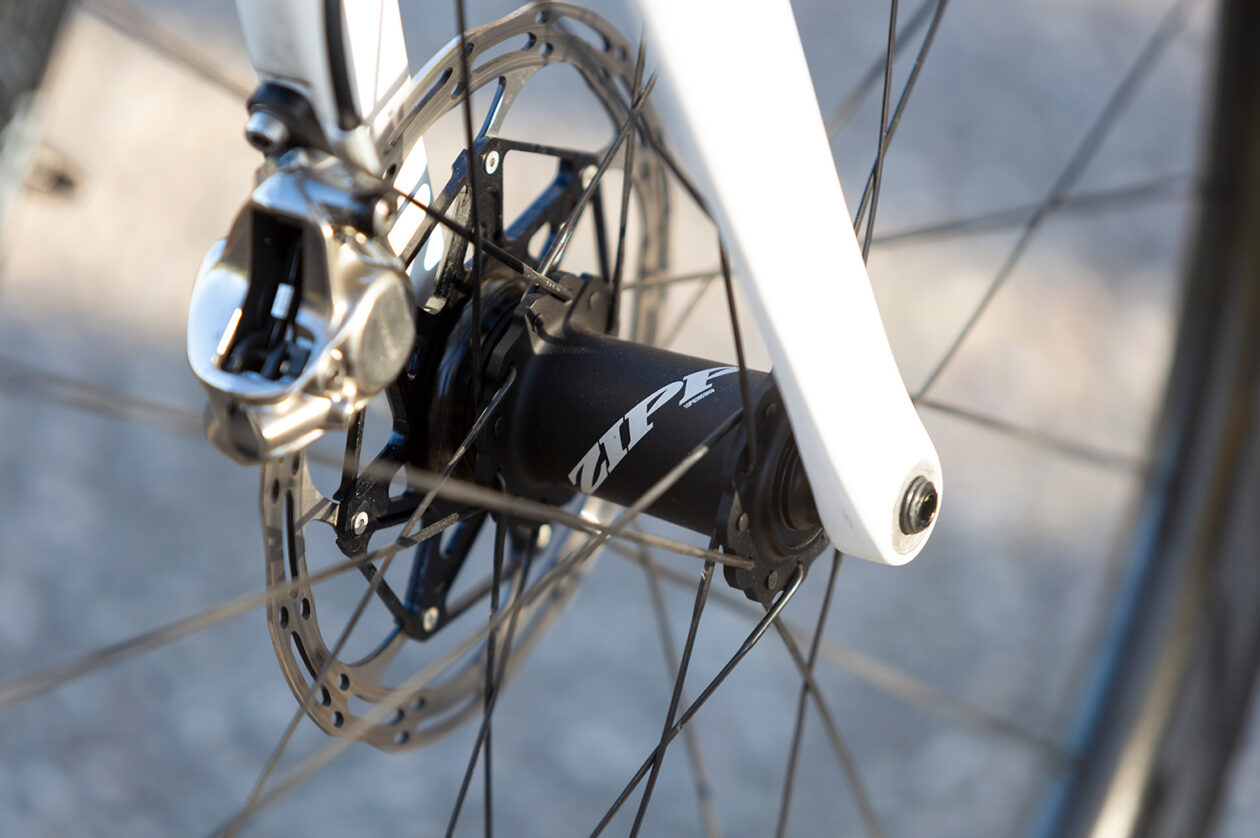 Stem & handlebar
The Zipp package on our test bike is completed by the SL Sprint Carbon stem with a 31.8mm handlebar clamp — suitable for the SL-70 Aero road bike handlebar. The 100mm version of the stem weighs in at only 162 grams and is stable enough to provide a secure hold when riding out of the saddle. The SL-70 is available in widths from 38 to 44cm. (Zipp measures from centre to centre). We chose the 44cm version with an excellent weight of just 250g. It's stiff enough to be used with full force. At the same time, handlebar and stem provide a noticeable, very pleasant damping — just as a carbon frame does. In the station wagon this is a good portion of driving comfort! If you combine them, you will enjoy a good amount of riding comfort!
The aerodynamic shape of the handlebar may be a real advantage when it comes to performance, but it makes riding with your hands on the top of the handlebar rather unpleasant. It's unusually wide — and I have to say, I don't like that at all … if I ride for too long with my hands on top of the bars, even my thumbs will fall asleep. It is undoubtedly fast and light, but needs getting used to if you prefer this position. On the other hand, it has the Rapid-Routing™ system which makes internal cable routing very easy. Accordingly, Bungi had no problems with the assembly.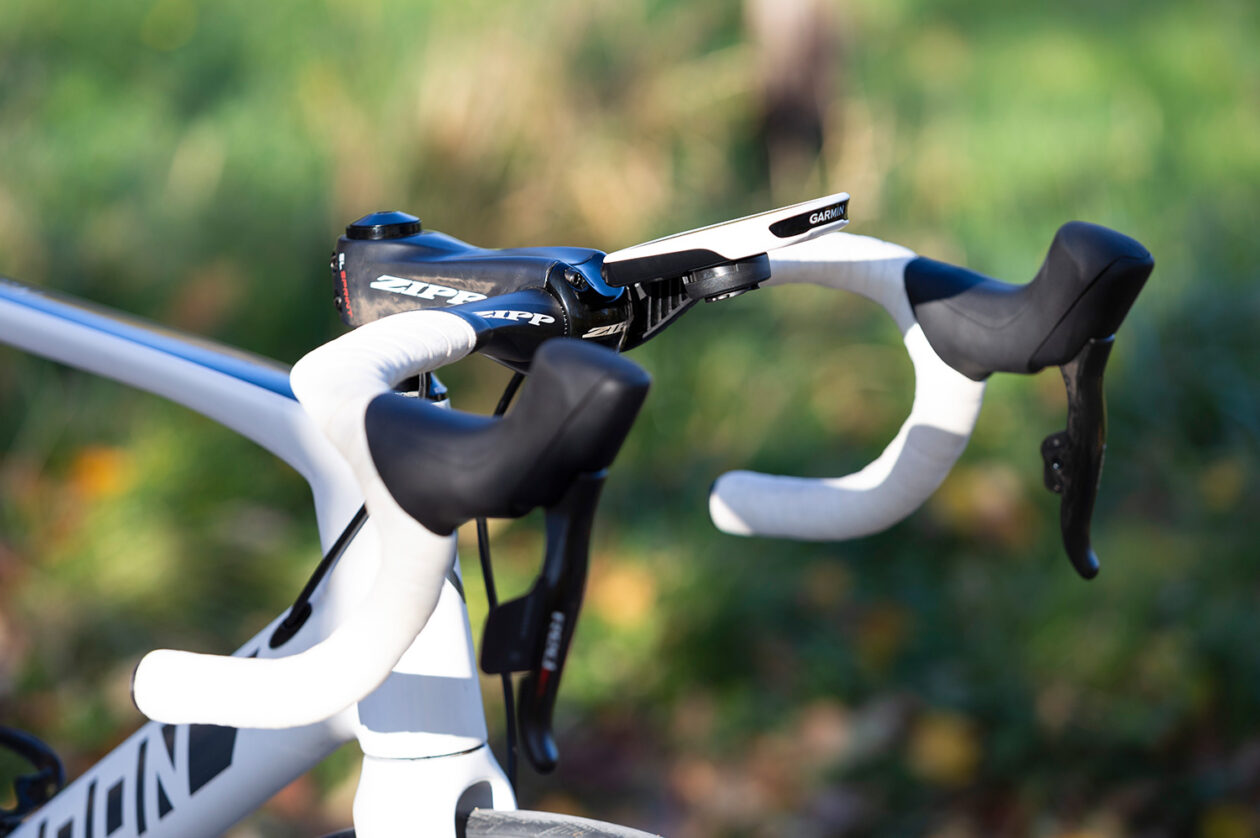 Price and performance
There can be no doubt about it: Zipp components are on a high level not only in terms of performance, but also in terms of price. In other words, they're expensive. But the weight and the aerodynamics are simply fantastic. Weight weenies get their money's worth. In combination with a carbon frame, the difference to a usual aluminium road bike with standard rims is not just noticeable, you can literally feel it everywhere. Road bike enthusiasts will already know that … And as far as the prices are concerned: We offer a lot of Zipp products with a good discount, particularly the tested stem and handlebar. Anyway, with us you can be sure to get the best price."