The ROX line of bike computers has offered us extensive data from our handlebars since 2008. The German company Sigma, specialized in electronic bike accessories and founded in 1981, has now introduced a new GPS bike computer for 2018 which represents an important step in the evolution of their development. As the GPS bike computer market is a fiercely contested area, the number 1030 will likely not be a favourite of Sigma — it may even be the room number of their toilet ;-). Sigma Sport wants to tackle the top league of navigation systems for cyclists with the new ROX. This is asking for a review! Go, Ralf!
Ralf reviews a ROXstar
"I tested the ROX 12.0 with the R2 Duo combo sensor for speed and cadence. The weight is 125g. For comparison: The Edge 1030 weighs 122g, according to the manufacturer, so that doesn't really make a difference. Experience has shown that these are the best conditions for keeping the handlebar stable. I used both possible brackets available for testing — the normal version for positioning on the stem as well as the Butler, which positions the device in front of the handlebar. You can find the most important facts about the ROX 12.0 in the following short overview.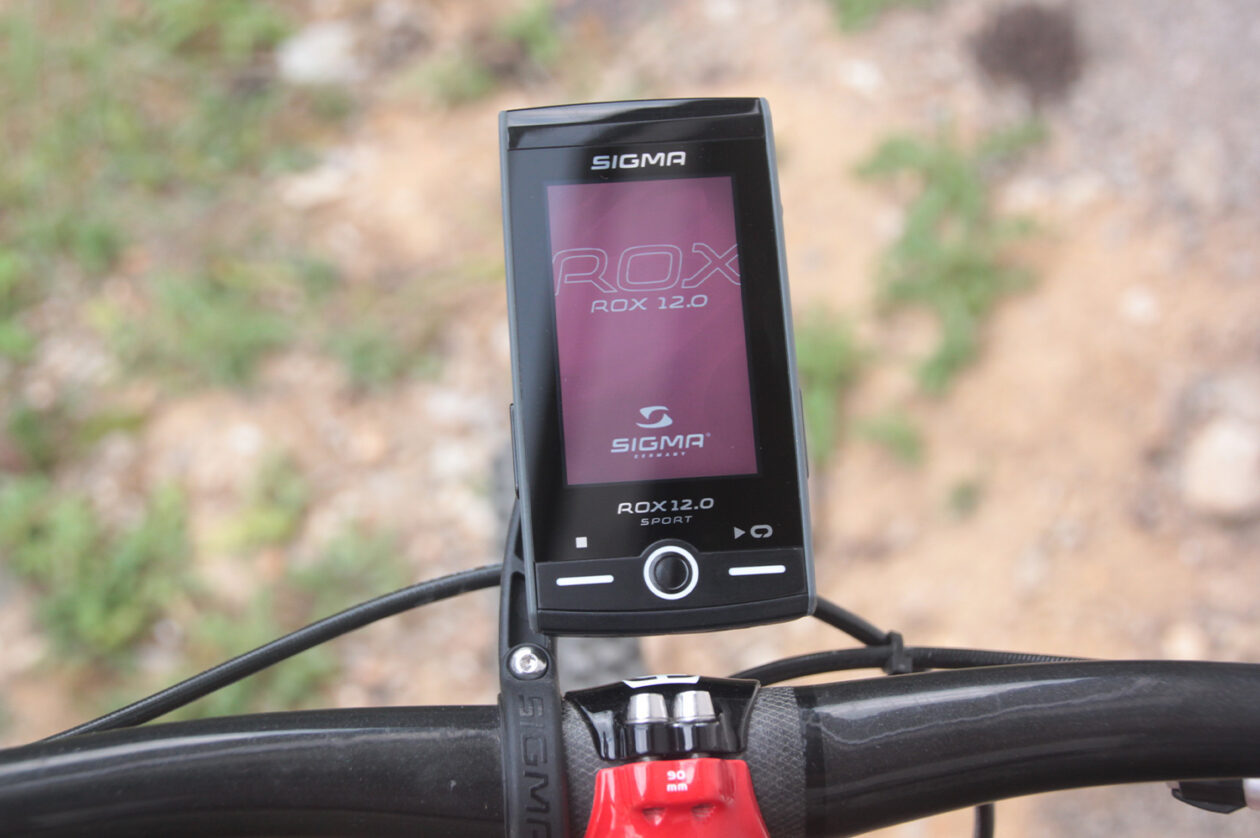 ROX 12.0 Sport Basic Datasheet
Dimensions: 59 x 115 x 17 mm
Transflective 3″ Display
Weight: 125g
30 training views (profiles)
Power: battery life of up to 16 hours
Fixed battery
GPS & GLONASS
8 GB internal memory (expandable to 128 GB via MicroSD card)
WiFi interface for fast data transfer
ANT+ and BLE (Bluetooth Low Energy)

compatible with chest straps & heart rate monitors
Di2, eTap and Rotor 2INpower (OCA, OCP) can be integrated

direct connection to Strava, Komoot, GPSies & TrainingPeaks
Navigation:

different routing options
detailed OpenSreetMap material ⇒ European maps pre-installed
maps free to download from anywhere in the world

Scope of delivery:

ROX 12.0 Sport Basic

ROX 12.0 Sport Bike Computer
GPS bracket: stem mount
GPS Butler: Aero handlebar mount
micro USB cable
Cable ties
Quick start guide

The ROX 12.0 Sport Set also comes with:

R1 Duo Comfortex+ heart rate transmitter incl. textile chest strap
R2 Duo Combo transmitter incl. power and cadence magnets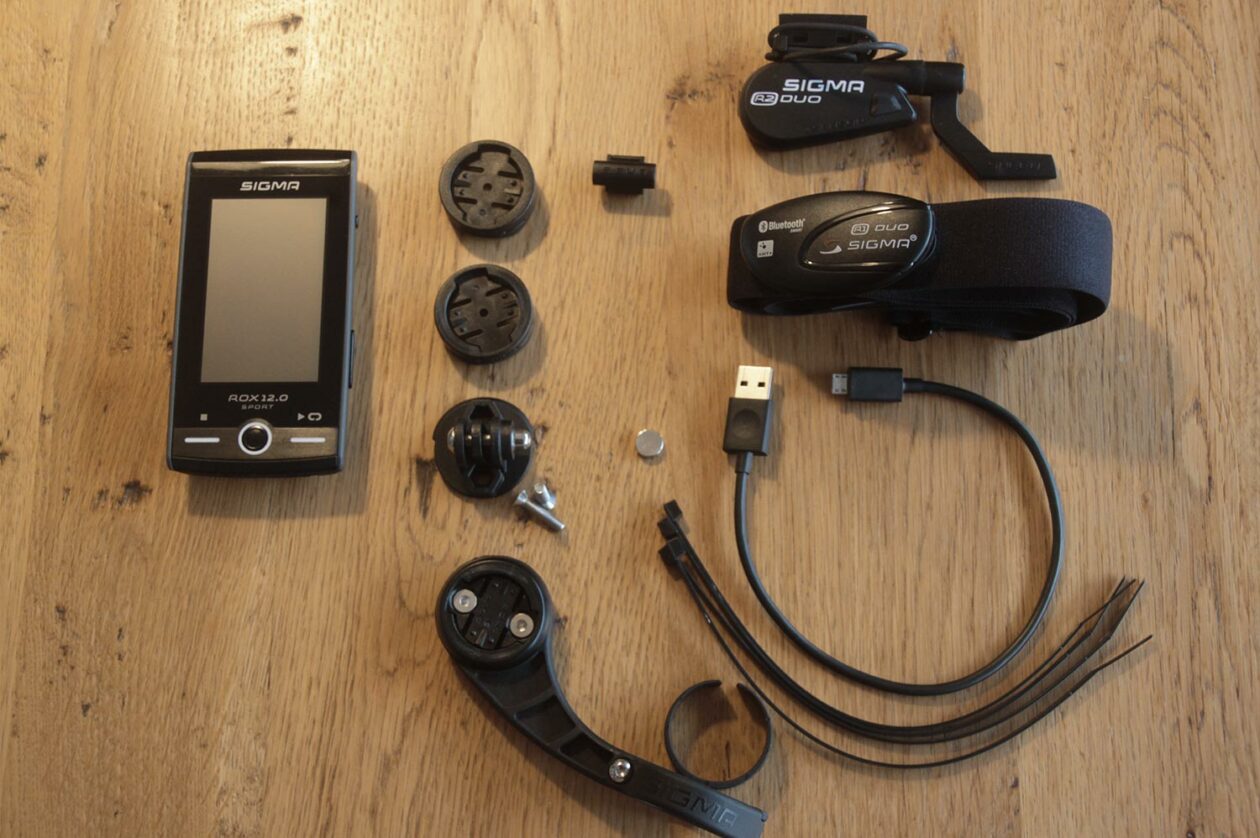 Display
The 3-inch display is both easy to read (thanks to its size) and pin sharp. It features a backlight and is easily readable in any situation — even in bright sunshine. You'd think that's standard today, but it's not, especially when the sun shines directly on a display. The backlight changes automatically according to the conditions, so you can see the display even in the dark. Rain is no problem either, as the ROX doesn't react to water droplets and therefore remains fully controllable.
The display is very insensitive to scratches. This is particularly evident after a longer period of time. Nevertheless: Sigma unfortunately does not offer a protective film, which is now available from other companies. This may be necessary though, depending on the range of applications. What I'm also missing is a bag to safely store the ROX with whenever it's not in use — especially since there's no protective silicone cover. If it ever drops you can change the case, in your favourite colour even — but that's not the best solution.
Assembly & Connections
The assembly of the two brackets is completely unproblematic — just position them and fix them with the cable ties or tighten the screw on the Butler. The R2 Duo can be mounted just as quickly. Then fix the magnet to the crank and attach the magnet clip to the spokes — it's that easy. Since assembly and setup are very simple, your first training session can theoretically start after just 10 to 15 minutes!
The connections of the ROX are flexible and function perfectly. The coupling of chest strap and pedometer or speedometer goes quickly and without complications. I think it's an advantage that Sigma uses ANT+ and therefore enables my Garmin chest strap to be recognised as well, so you don't need a different strap for every brand. This also means something else: older sensors can be used with it, too. Sigma used ANT+ starting from the ROX 10.0, so that these are also compatible with the newest ROX. Other ANT+ devices are also possible, such as pulse watches. But that isn't all: electronic circuits and watts measurement can also be integrated, i.e. displayed. I tested this compatibility with Di2: The ROX recognizes the circuit immediately and displays the corresponding data. SRAM's eTap, rotor and other power measurement systems that send ANT+ compatible data are specified by Sigma — but I couldn't test them all.
The other big feature besides ANT+ is WLAN, as this makes the connectivity of the ROX 12.0 GPS a big plus in everyday life. When you arrive at home and have saved your tour, it is uploaded directly to the Sigma Cloud, Strava or other services via WiFi and can be evaluated.
(Self-)Operations
With the ROX 12.0, Sigma has not only placed its bets on a touch screen, but has also added five navigation buttons — three below the screen and one each on the right and left side of the device. This makes it easy to operate at any time, even with gloves that are not intended for touchscreen use. You also cannot complain about the button assignment.
The layout and functionality of the menus are very clear and logical, as is the start page. Setting up the user profile and the display fields is very easy and self-explanatory. The 'intuitive operation' advertised by Sigma is therefore not just a marketing slogan. Profiles can be set up for the various bike disciplines and the data on the bike is stored there as well. The display can be adjusted accordingly and the navigation adapts: In the racing bike profile, for example, the ROX doesn't lead you through forests.
Software
Unfortunately, Sigma didn't spare themselves the trouble that many manufacturers of sports watches and bike computers had to face when launching their devices: The software lagged behind the hardware at launch and not all functions were usable or worked smoothly. This was not the case with my device, but we did notice it in customer service. But Sigma now has that under control. Still, it's always important to equip the ROX with the latest update. Sigma recommends connecting the ROX 12.0 with a 1000 mA USB power plug to a power socket for charging. The power supply is ideal this way, updates are automatically initialized and only need to be confirmed. This may take a few minutes, but works reliably.
Navigation sophistication
The pre-installed map material (OpenStreetMap) is very detailed. The navigation is user-friendly, as well. Practical setting options allow you to create the perfect possible tour. Especially the function 'paint route' is really awesome — you can draw on the map using your finger and the ROX 12.0 calculates the corresponding route, taking into account the previously entered profile.
What I also consider outstanding is that you can change the individual displays on the device while riding. By pressing the corresponding area for approx. 3 seconds, you can select the desired display. However, as this always distracts you from incoming traffic, I definitely recommend stopping for a short while. As I said, it's a really quick process. After more than two months with the ROX I didn't have a single problem with the GPS reception. There were no dropouts and no delays in navigation.
Energy output: the battery
The battery life is specified by the manufacturer to be a maximum of 16 hours, which seems realistic. My battery usually had to be recharged after about 10 hours due to me testing the many functions. Sure, more is always better, but even 10 hours are acceptable for a bike computer. Of course you can extend the operating time even further by using a Powerbank with mini USB connection. The navigation alone consumes a lot of energy, so much more would be possible without it.
The ROX in conclusion
Unpacking the ROX immediately achieved a WOW effect! Sigma has produced a device that can compete optically and haptically with other top navigation systems. The evolution of the ROX has become a revolution with the 12.0, as the Sigma team has rethought many aspects during its development. A practical format with a chic, simple design: the fundamentally changed GPS bike computer houses a 3-inch touch screen in colour, the path is now displayed as map navigation and the ROX can be connected via W-LAN!
With the ROX 12.0, Sigma has breathed life into the often proclaimed slogan 'intuitive operation'. The functionality is excellent, clever navigation features make biking even more fun. The R2 Duo speed and cadence sensor works perfectly. But even without it you always get precise riding data. The mounting brackets are of high quality and hold the ROX reliably — even in harsh terrain you don't have to worry about it coming off.
According to Sigma, after initial teething troubles, all functions are now fully available — this was clearly demonstrated during testing over a longer period of time. That's why it's so important to update immediately after unpacking. According to Sigma, the best way to do this is to plug the ROX into a 1000mA USB power plug that is plugged into a wall socket — not a PC. The update is initialized automatically and only needs a confirmation. This works reliably, but can take a while, so just take your time.
My only points of criticism concern accessories: I miss the bag and the protective film, which other suppliers already offer. Unfortunately Sigma also doesn't provide a suitable cover for protection. If the case is damaged, it can be replaced — even in your favourite colour — but that shouldn't need to be done in the first place. A transport bag isn't available either, although there are enough situations in which you have to pack away a bike computer when out on a ride. And this would also be practical when travelling, since you'd want to store such a high-quality device safely.
All in all, however, my conclusion is quite positive: Sigma offers a high-quality navigation system for all riders with the new ROX 12.0 Sport. The price-performance ratio is fine — the ROX is somewhat cheaper than its main competitor Garmin Edge 1030. The numerous options and settings leave nothing to be desired. The fantastic operating concept and the good connectivity to various web services make the ROX 12.0 Sport a superb overall package".