Shimano isn't simply an established player in the components sector, but also offers an extensive selection of bike shoes. They range from mountain bike shoes over special trekking and touring shoes to beginner or high-class racing bike shoes. What's nice about Shimano is that the prices are low compared to the competition. All this at the expense of quality? Can the component titan really produce clipless gravity shoes for flat pedals? That's what Kevin asked himself.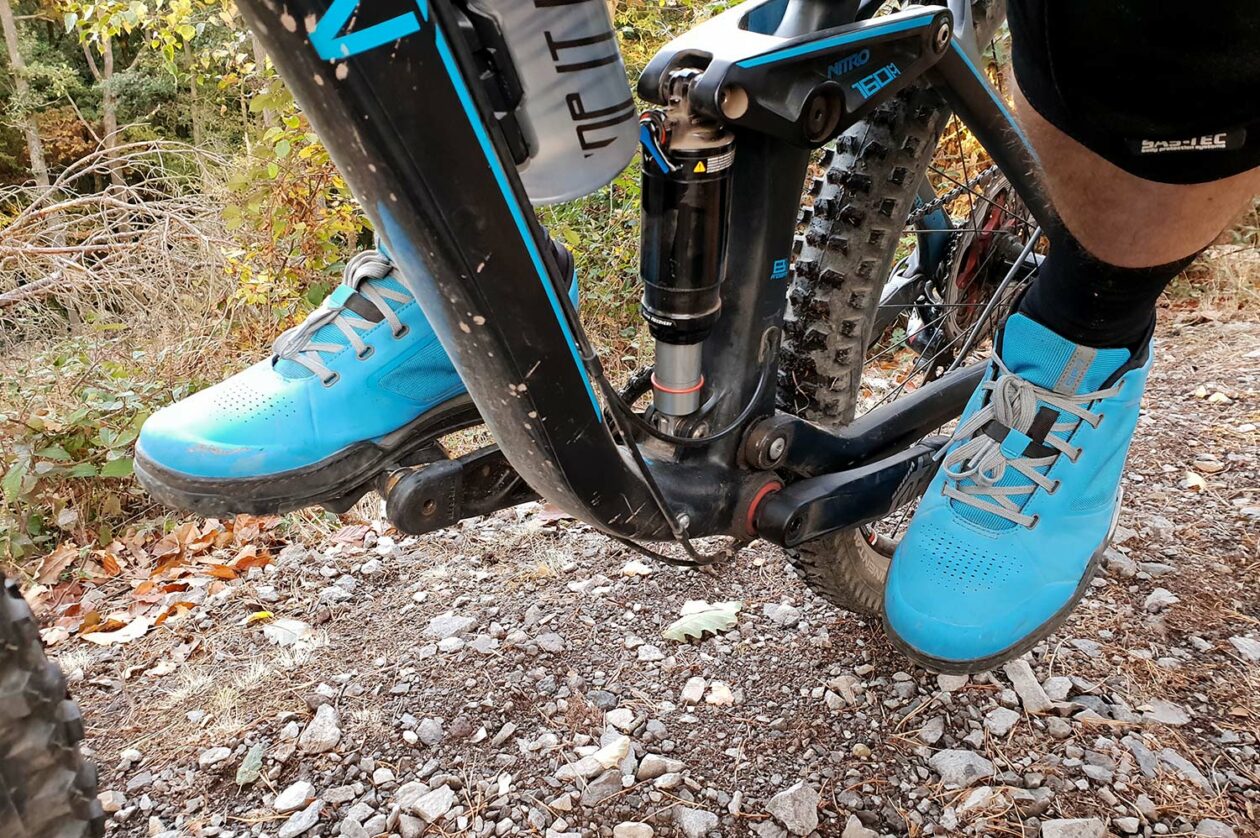 Kevin's gravity shoe test
"I've ridden a few MTB flat pedal shoes in my life, especially those by Five Ten, so I'm able to see the performance of a shoe quite well. Shimano offers a lot of biking shoes, but I was a bit sceptical whether they have something good to offer in the non-click field. For a better understanding: I used the SH-GR7 shoes with Shimano's Saint pedals in this test.
Fit, stability and weight
The shoes provide sufficient stability, as required by a gravity specialist, but they're not too firm. Of course, weight also plays a decisive role. The weight of the individual shoe is approximately 360g, which is light for a shoe in this class. Five Ten's Freerider, for example, is certainly heavier, but its stability doesn't suffer from this. All in all, it makes the Freerider more agile. The SH-GR7 shoes are comfortable to wear and can be laced well, so that they sit firmly on the foot without unpleasant pressure.
When it comes to sizes, I can only confirm the size recommendation of ordering these shoes one size larger. For further orientation, here's a comparison with my sizes from other brands:
Regular shoes: 44
Shimano: 45
Five Ten: 44 (UK 9.5)
ION: 45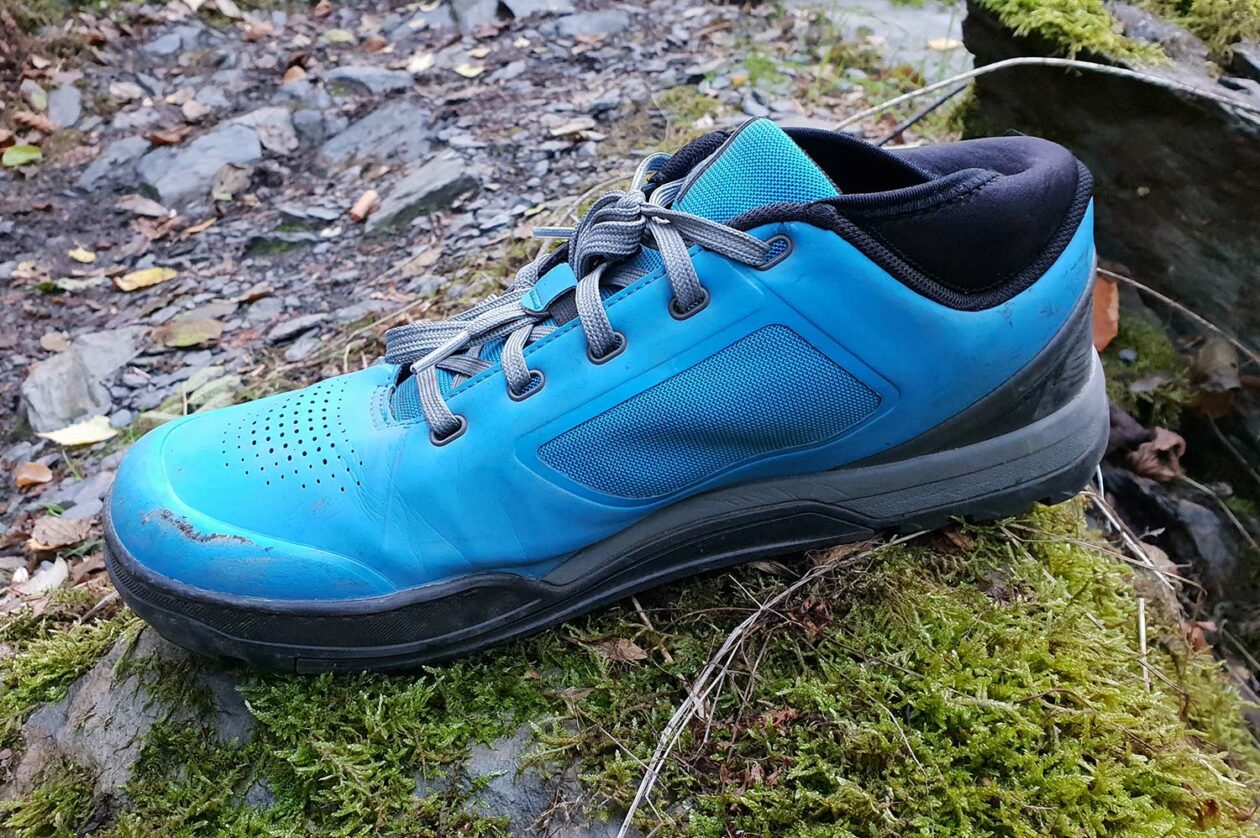 Sole stories
Shimano's flat pedal shoes feature a Michelin rubber outsole that is designed to provide excellent grip on both the pedals and the floor. I can confirm this by saying that the grip is good – but the sole is not as sticky as the Five Ten's. Regardless: I like this a lot because it makes me more mobile on the bike. This way, I can adjust my feet better whenever I have to take one of them off the pedals in a steep curve, for example. In combination with their weight, this gives the SH-GR7 shoes an agility that I personally appreciate. In the beginning, the soles were a bit too stiff for my taste, but after a little running-in, they improved a lot.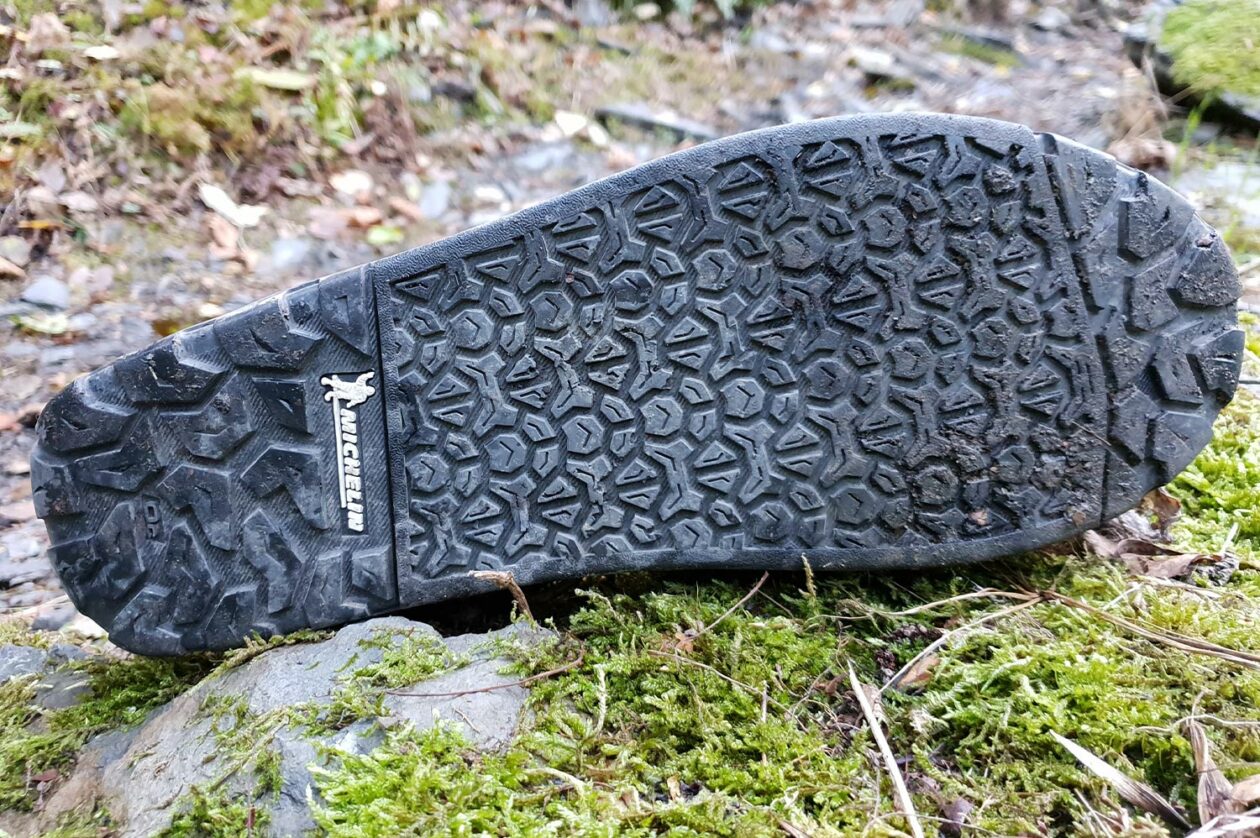 Upper material
The robustness of a shoe is important on the mountain bike. Smaller branches or undergrowth shouldn't be able to harm the shoe, nor should any dirt, of course. The upper is made of a perforated synthetic leather with a heat-regulating mesh fabric, which brings good breathability and durability at the same time. The materials absorb hardly any water or dirt, so they dry quickly even when wet. They also don't get dirty very fast, which makes them more durable. For cleaning, you can simply use a damp cloth. Due to the smooth synthetic material, dirt doesn't stick so easily. The good ventilation of the shoes will cause your feet to get too cold in winter, if you aren't wearing thick socks. But the SH-GR7 is not a winter shoe, so go figure.
Even more highlights
The SH-GR7 shoes feature a moulded outer toe cap (rubber lip) for extra protection of this area. This is standard, but still worth mentioning. The cleverly designed ankle shaft made of stretch fabric offers additional protection from stones by forming a clean finish around the heels. With this little extra I truly get less dirt and pebbles in my shoes than with other models, especially after a dusty enduro tour — which can get very annoying.
The design of Shimano's shoes does take a little getting used to, though, since they look a bit bulky. But that's just a matter of taste, and does not impair the performance. At least there's a small style highlight: an additional pair of laces in a different colour. I put the additional grey laces on my shoes, as their color is a nice contrast to the blue – blue alone would be much too bright for me.
Kevins SH-GR7 conclusion
I was positively surprised: The SH-GR7 are light, stable and easy to clean flat pedal shoes, which stand out with their colour. But let's not fool ourselves: They don't deserve a style or design award, as there are much nicer MTB shoes. The fit is good, the grip of the soles is sufficient and they definitely do their job in mud and dirt. The ankle joint construction is very practical as it keeps dirt and pebbles out. The durability of the soles is also fine — no pedal pins left any holes in them yet. The price is already okay as the recommended retail price, but with our current discount, it is absolutely unbeatable! It will be hard to find a shoe with the same performance at such a price. The shoes are also available in a women's version."