For fall / winter 2022 POC for the first time presents a full MTB collection for wet and cold days. The collection indeed offers everything a biker's heart desire to keep one dry and warm this season. We were allowed to test the highlight product of this collection: the Consort MTB Dungaree.
Already in advance you could read on various websites reviews and tests of the pants, which were critically commented by end-users in various forums. The fact is the pants have been a sensation at the ISPO at the beginning of the year and won one of the coveted prizes.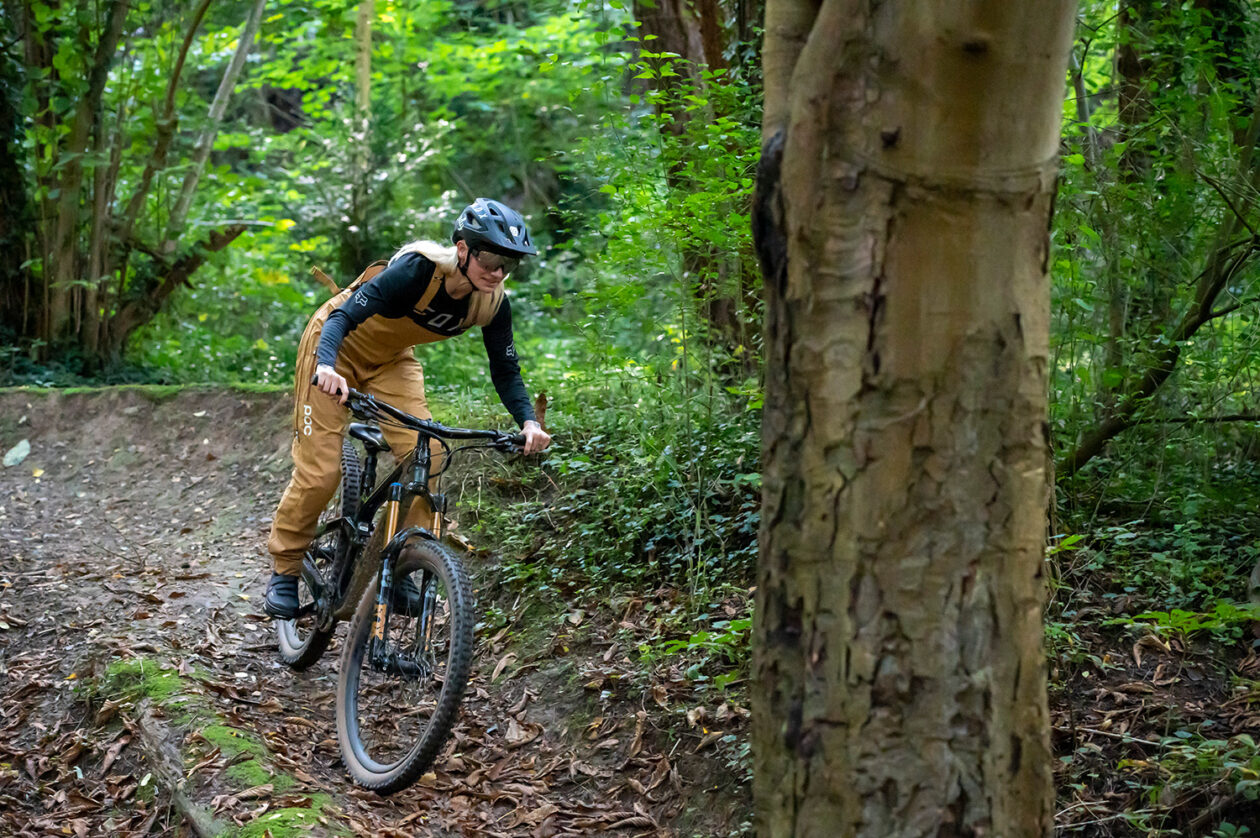 Straight out of the bag
So, I eagerly awaited the sample shipment to tell you my first impression. With an SRP of 490 €, the pants are definitely no bargain, what raises my expectations. So first I thought: Hm – quite a small bag for a long dungaree… The pants are indeed very lightweight and thin. However, from experience I know that exactly this can be a big advantage on the trails. Perfectly processed details – whether seams, zippers or buckles – instantly you can see that POC has not saved on material.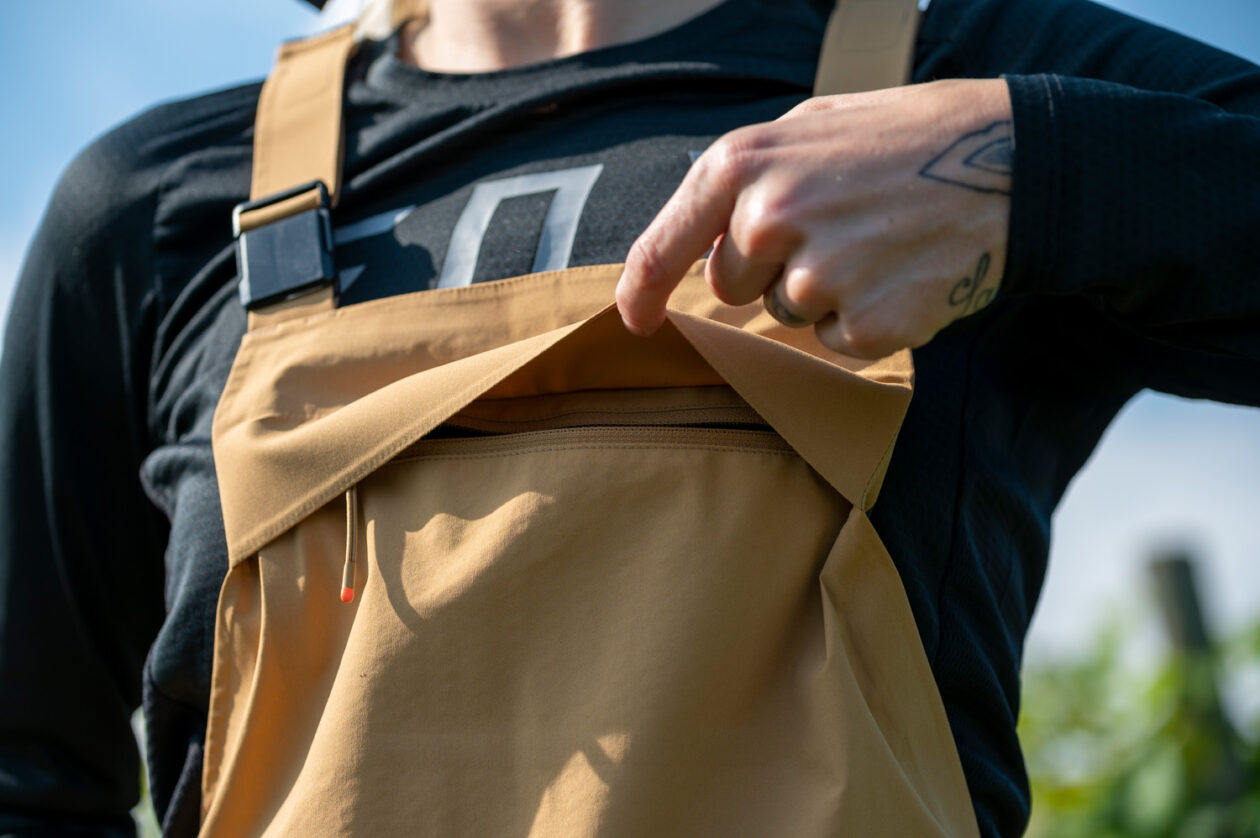 And the bib? Nice! Now I can certainly ride without a jacket on many days because the high bib also keeps a large part of the back dry. If you ride in fall or spring in dry weather conditions on muddy trails, a jacket is not always necessary. Because if we look at it neutrally, we usually get the legs, butt and back soaked wet. Often, I was extremely sweaty wearing a jacket because the weather may be too warm, but a jersey would have immediately been soaked wet.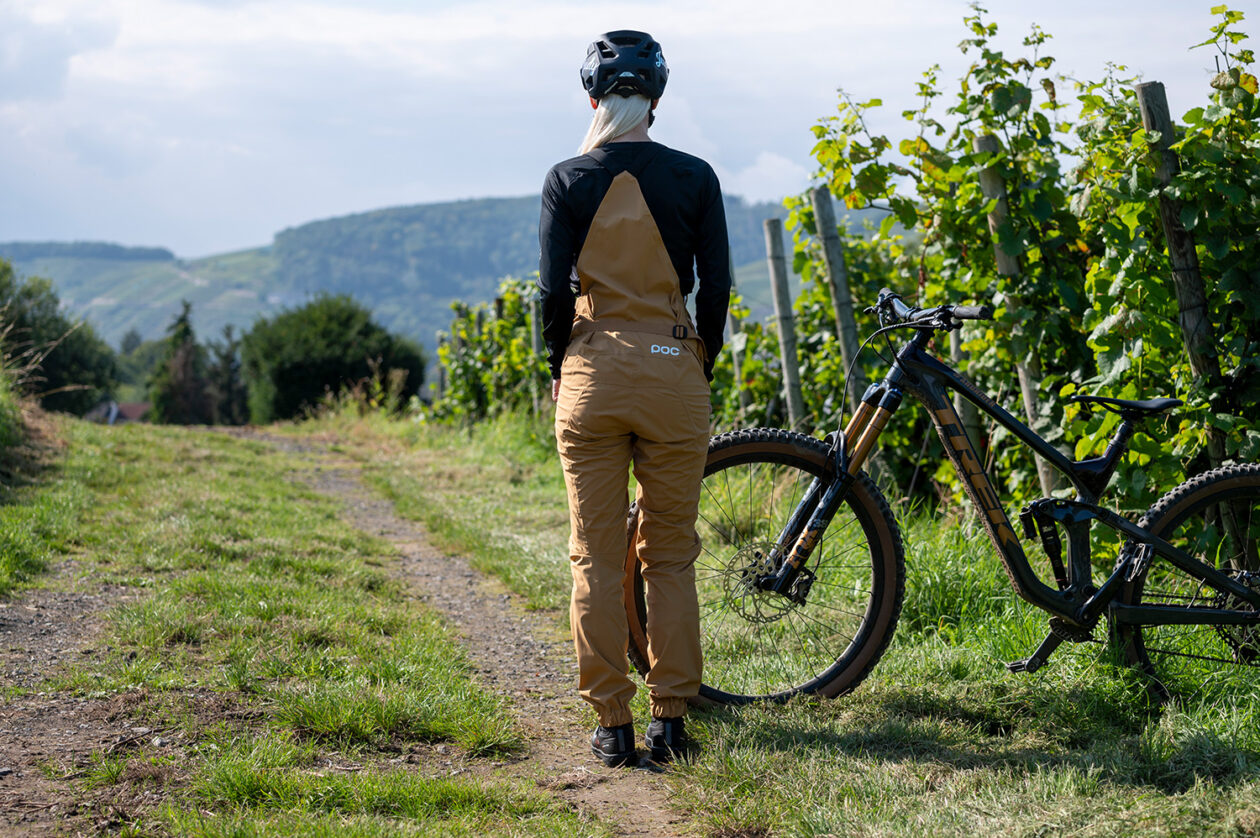 Let's talk about specs
What are the pants features according to the manufacturer? Here are the most important data: Three-layer stretch fabric with strategically placed Cordura, a 15.000 mm water column and 30.000 g/m²/24h vapor permeability and PFC-free DWR coating. Wow, that sounds pretty promising. Well-placed zippers for easy entry and extra ventilation, a zippered chest pocket, a secure zippered map pocket and side zippered pockets. The bib is easy to adjust in length. For smaller women as myself (1.68m – 53kg) it could have been 1-2 cm shorter. For me, the pants in size XS fits a little too wide, the straps are a little too long. The fit at the waist can be adjusted by a small belt. The thighs are cut a little wider, the lower legs narrow – tailored to the needs of every biker. The dungarees are unisex and available in sizes XS-XL.
On the trail
On warm fall days, I just wear a jersey underneath and off I go. I must say, the pants meet my very high expectations. In addition to the incredibly cool styling, it is super comfortable and very lightweight. The fit is perfectly adapted to bikers, you have enough freedom of movement. The dungarees have not bothered or pinched me once, I have not sweated more than usual AND – I am dry and clean (so, under the pants)! This is a luxury indeed. Due to the casual fit, you can easily open the bib at the top and the side zippers after muddy rides and step out of the dirt quite easily. Underneath you are clean for sure. My FOX Launch Pro knee pads have fit very well with the pants, it is designed that protectors can be worn underneath.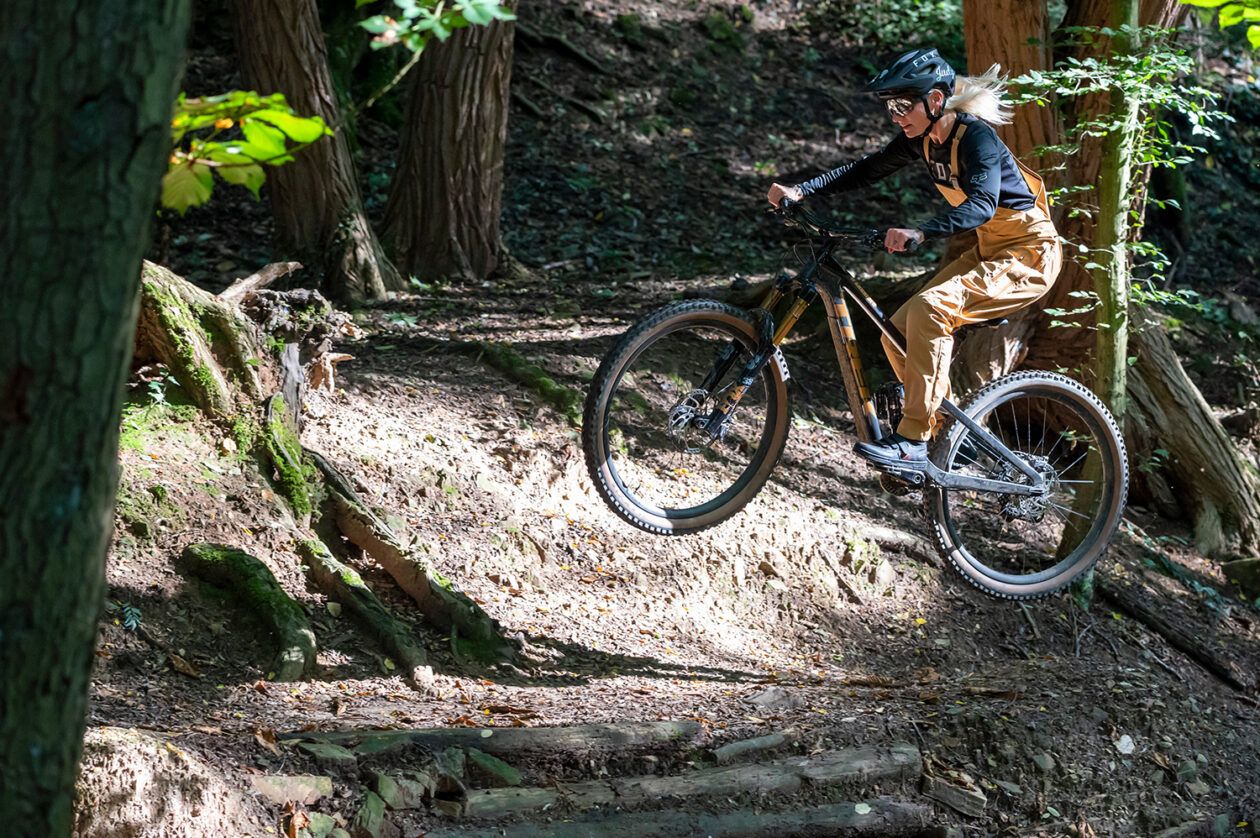 In the side zippered pockets or in the chest pocket you can stow small things you need during your rides. Even the one or other small crash (what happens in the mud easily) the material has coped very well and did not immediately tear or pull threads. In the most important places, the material is reinforced.
Sure, must it be a MTB dungaree for 490 €? That is certainly the first question to be asked. But I think: yes, why not? There are certainly many POC lovers and MTB riders who want to distinguish themselves from the broad mass of classic Dirtsuit wearers to have something unusual, unique. Otherwise, we wouldn't need high-end bikes, after all.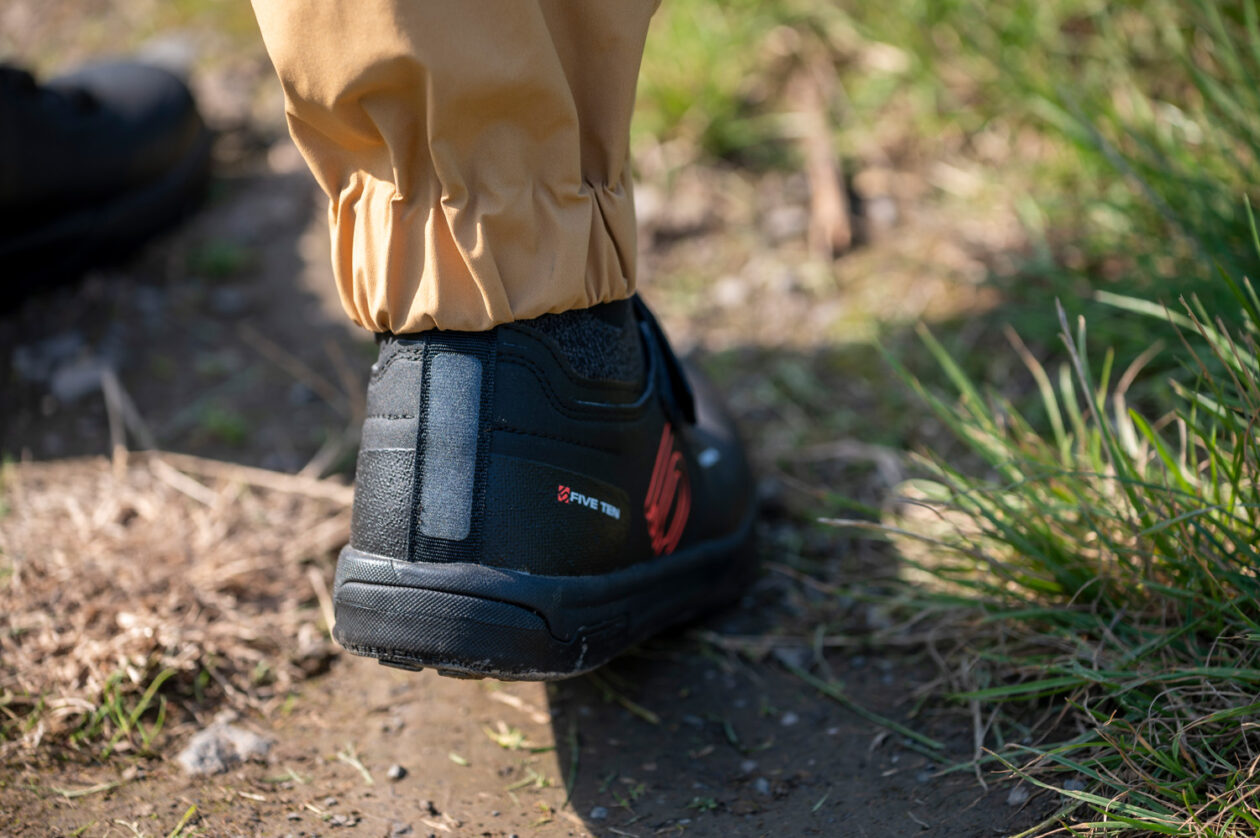 Judith's dungaree conclusion
I will certainly ride in the rain and mud more often than before. With the dungaree, exactly this is much more pleasant. I especially like the range of use during the different seasons. As the pants are very light, extremely breathable, and not too thick, you can wear them not only on colder days but properly combined they can be worn from autumn to spring. POC offers a wide selection of matching styles. This year we again have seen that our German summer can be quite rainy. POC has developed a great product and with it a very thoughtful and matching MTB collection for men and women.
Note: We would have liked to show you the pants really dirty and fully covered in mud. However, on photo day we had 'bad luck' with the weather and far too much sun 😉