As a family man with two small children, I was looking for a device that would allow me to share my cycling passion with the kids and get back on my bike more often. We do have a bike trailer, but it's quite bulky and heavy. Besides, the three-year-old is no longer happy with just sitting in the back and would like to ride by himself.
Therefore, I started looking for an alternative. That's when I remembered the FollowMe tandem coupling. We have been selling this product in our shop for ages now, and the pictures and the manufacturer's website do indeed look somewhat "old fashioned", but I had never actually seen this coupling system in action. So it was definitely time for a thorough testing.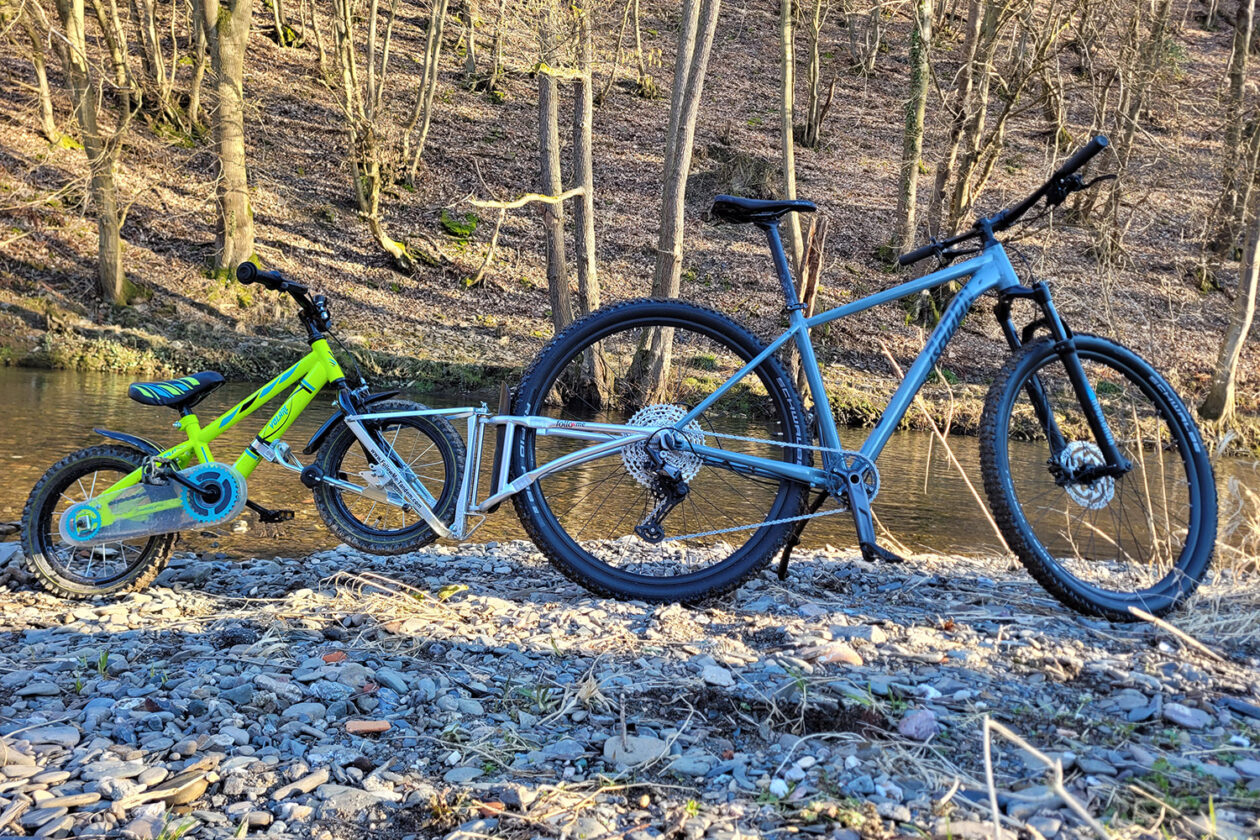 Building bonds – first date
The tandem coupling comes with all the necessary fittings, if you have a bike with a quick release system. For all others, various thru axles are separately available. The coupling itself is certainly not the most beautiful of products, but it is well made and looks very stable.
Installing it might be a little tricky, however, the illustrated instructions make it a feasible task even for amateurs. You will need a hacksaw, a pair of tin snips or a similar tool for it. For the other parts of the assembly process, only an open-ended spanner and an Allen key are required, things that almost everyone will already have at home. The quick release or the thru axle is then replaced on the adult's bike before attaching the coupling. Install the axle extension nuts and the down tube bracket on the child's bike. Finally, the child's bike is attached to the coupling. After half an hour, everything is fitted to both bicycles. And from this point on, the child's bike can be fixed to or released from the adult's bike in less than a minute by fixing or unfixing the three attachment points (one on the down tube, two on the axles). The whole system is really safe and doubly secured everywhere.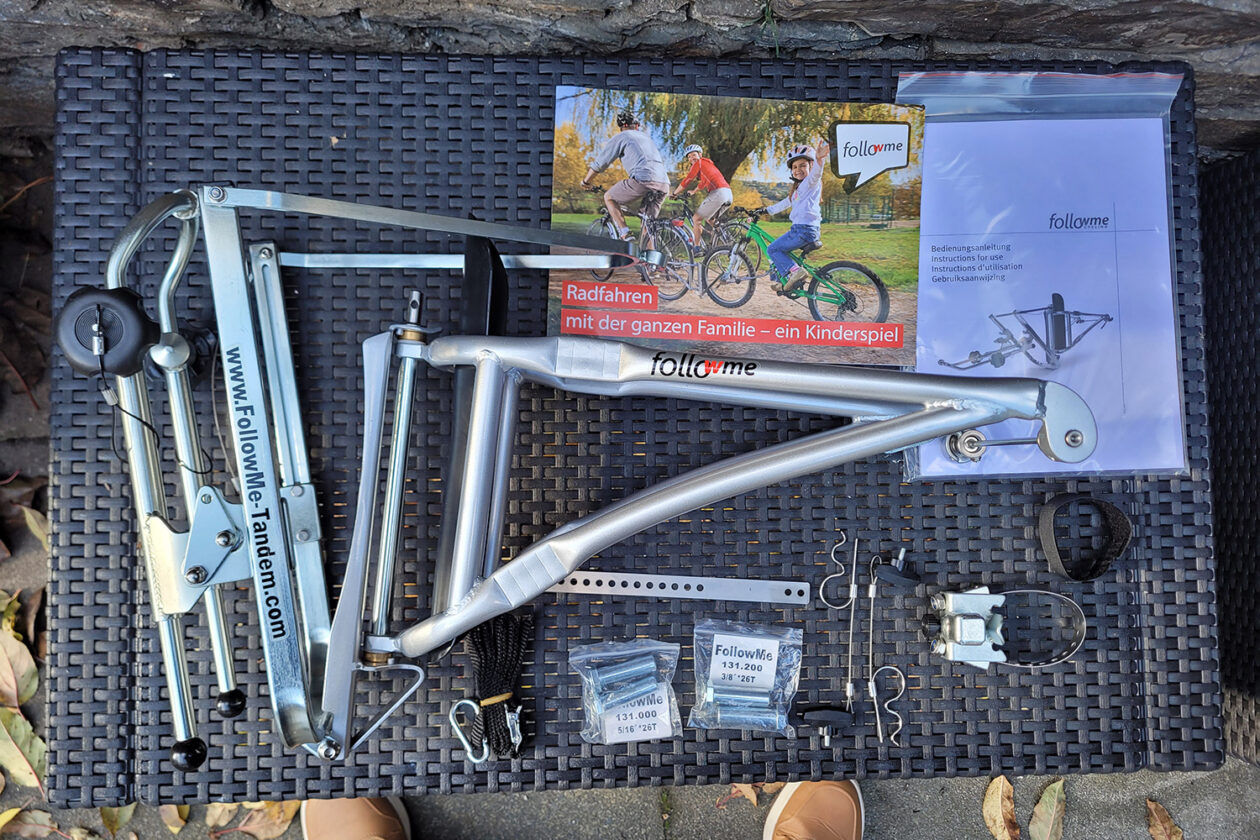 Going out – second date
Now it was finally time for the first practical test. I called our son over and explained to him what this "silver thingy" was good for. But his reaction was not what I had hoped for. He started crying bitterly and said that he didn't feel like it and would rather ride on his own. That's understandable, but unfortunately you don't get very far with a three-year-old riding on his own. So I persuaded him to come for a short test ride. And indeed, after about 5 metres, his mood changed dramatically and all I could hear from behind was "wow, that's cool". And when I looked around, I saw a happy face. Fortunately, his mood did not change during the test ride. On the contrary, all I heard from my boy were things like "we're two real bike men", "faster, Dad, faster", and "can we go up that hill, too?".
What was supposed to be no more than a short test up and down the road ended up as a 7 km ride, and even that only because hunger got the better of us. After the big boy, full of enthusiasm, had told his mother everything we had experienced and the pasta had been eaten, he jumped up and insisted on another round. So the bikes were taken out of the garage again and another 10 km followed. This developed into some sort of routine over the next few days…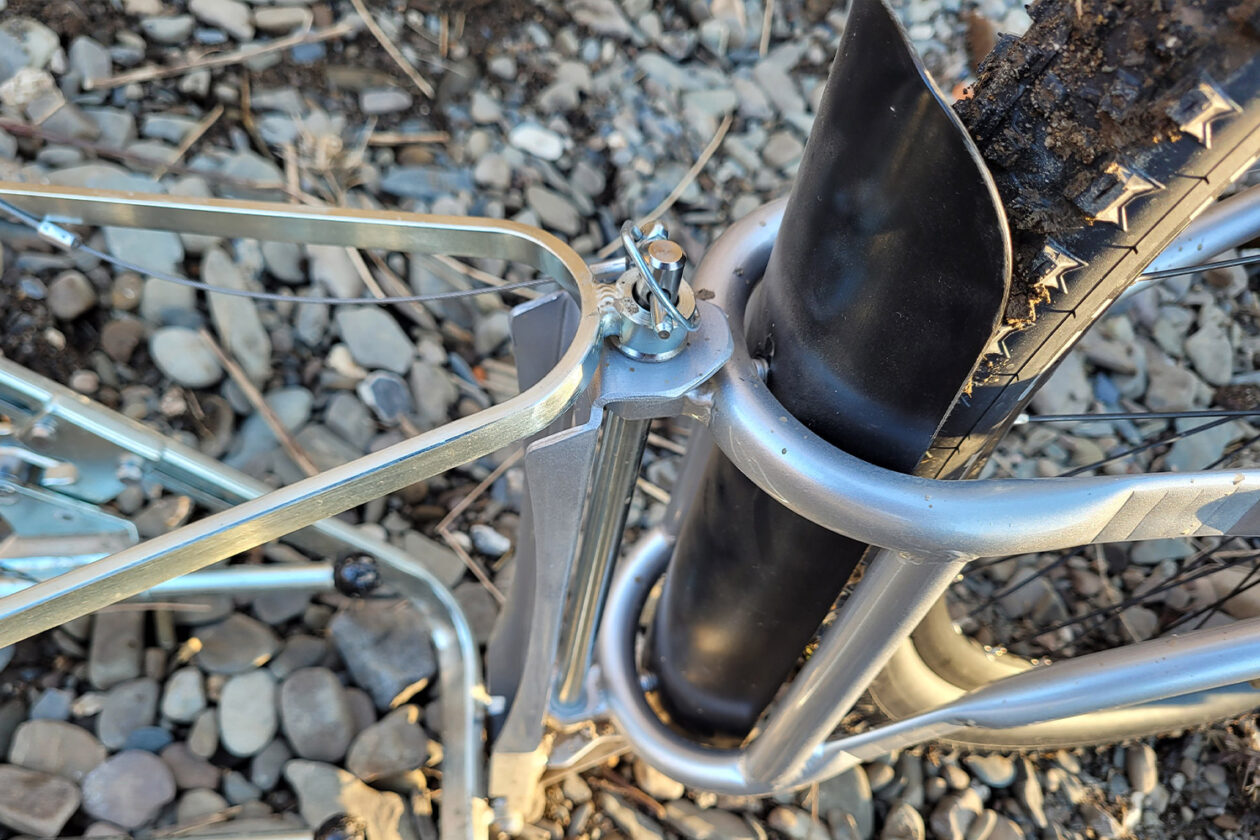 The bikes are really easy to steer with the tandem coupling, you just have to explain to your child that he/she should not wobble back and forth too much and not pull the brake on his/her bike. With younger children, it is also very important to make sure that they are not too tired and that they stay focused, as it is only the bike that is fixed, not the child sitting on it.
In the meantime, the two of us have already done quite a lot of kilometres and we still have the same fun as on our first tour. So far, everything has worked smoothly. However, if something should need to be replaced, FollowMe offers almost every component as a spare part.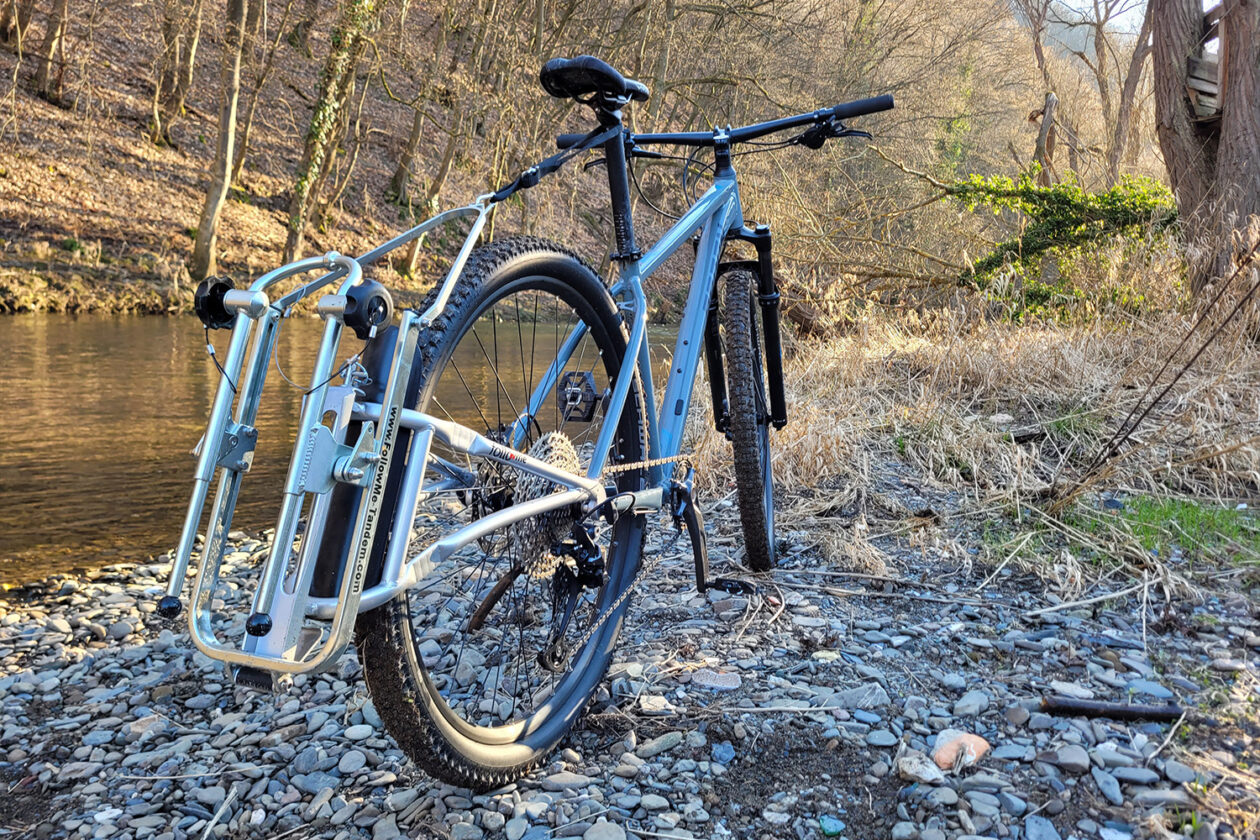 Any more dates to come? Daniel's verdict.
Personally, I wouldn't want to have to cope without the FollowMe tandem coupling anymore. I can now finally share my hobby with my son. Due to the extra weight, the joint rides are a good training unit for me, and being able to pedal, for the child it feels as if he is riding himself. It also opens up new paths. Instead of always cycling up and down the cycle path as before, forest and field paths are no longer a problem with the coupling.
However, the fact that the axle has to be changed each time in order to switch from our trailer to the tandem coupling and back is a bit of a downer. And then there is the higher price compared to what other manufacturers demand for similar products, which, on the other hand, make a less robust impression and are not suited for mounting a child seat on the frame or luggage carrier as with the FollowMe coupling. I think that the tandem coupling is very stable and safe – and that's what really matters when your own child is attached to it.