A height-adjustable seat post is a must in enduro, but it also makes sense in other disciplines. That's because it's a big advantage to get the saddle out your way in challenging terrain — in order to have the necessary freedom to drop the saddle and shift your body weight more effectively. Of course, Bungi's bike needed one … so he outfitted it with the new e*thirteen TRS+ dropper post.
The somewhat young company e*thirteen from Petaluma in California, USA, has been active since 2001 — a small company run by mountain bikers whose speciality is chain securing for MTBs. By now, they also offer a wide range of high-tech components — including seat posts. These include the TRS+, which was just released and, for the first time, offers a 170mm travel.
The advantages of height-adjustable seat posts are obvious — the only disadvantage is the longer length of the vario seatposts — it's not possible to ride a dropper post of more than 150mm travel with every bike. Decisive factors are the rider's leg length and the seat tube length of the bike. The permitted insertion depth is also important. But enough of that, now to the action — let's see what Bungi has to say:
More tarvel for Bungi's Swoop
"The seat post: As soon as the ride goes downward and you get up, it gets in the way. A dropper post then — what should it do? Go up, down and up again … that's all, right? Height-adjustable seat posts have been around for years now. The manufacturers always come up with something new to make it difficult for us riders to choose the 'right' seat post. Hydraulically controlled or with bowden cable? Air sprung or coil sprung?
Bike journals deal with this subject again and again and then choose an overall winner. But in the end, a height-adjustable seat post only has to be able to do three things: Go up, go down and be stable!
When assembling my test bike, the Radon Swoop 170 — which I'm sure you already know well 🙂 — I was naturally looking for a new height-adjustable seat post, since this is an elementary feature for enduro mountain bikes. The considerations at the time were: Should it be a hydraulically controlled RockShox (the lastest test winner), the Fox Transfer or a Kind Shocks product? Or can somebody else produce solid vario seatposts besides the 'top dogs'?
The criteria were as follows:
170mm travel
Stability
Remote lever in shifter style
Internal cable routing
Matchmaker compatibility
No Offset
After a long search and some phone calls I got an offer from e*thirteen that I couldn't refuse. I was allowed to do preliminary testing: I got the new e*thirteen TRS+ dropper post in 170mm, which was goin to be available in autumn 2018. One of the first pre-series models was made available to me. I couldn't help it, naturally, but only under the condition to drop the test in due time 🙂 This was great, as it meant long-term testing!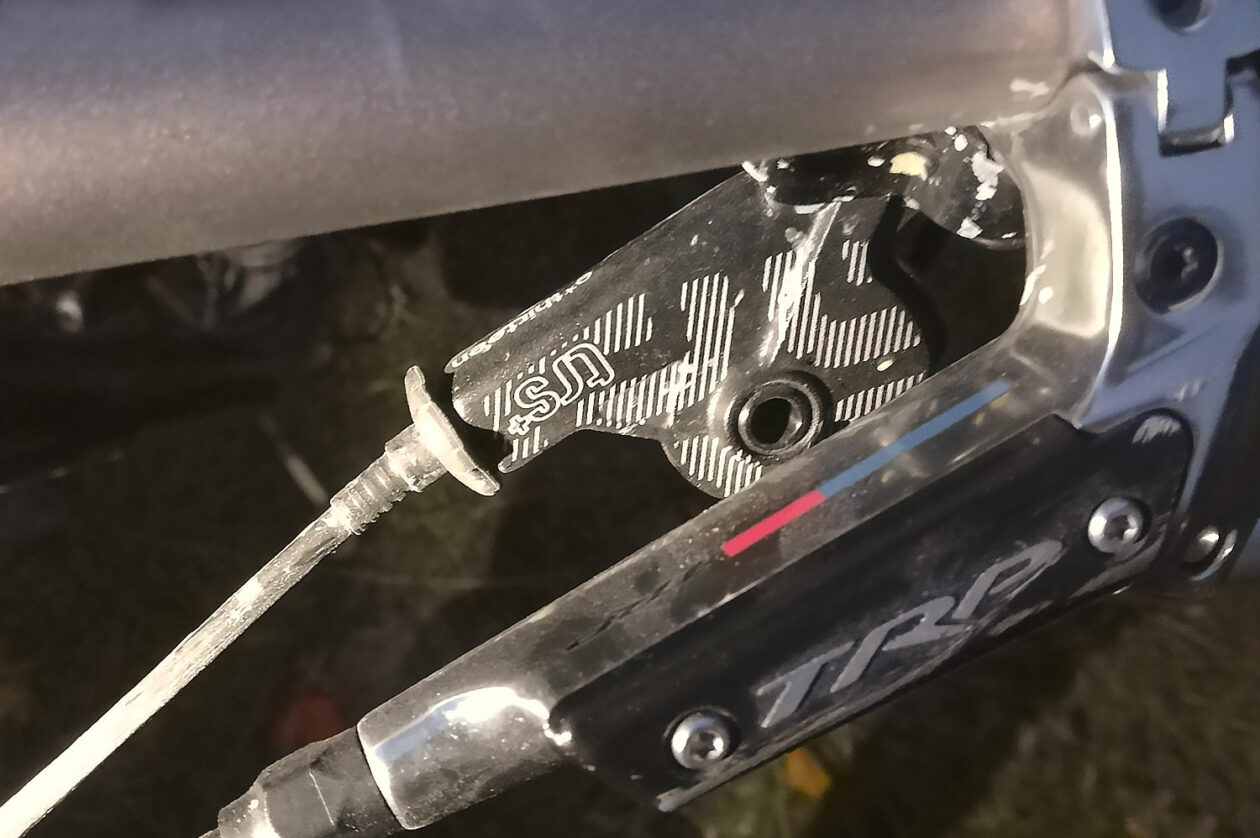 The facts of the e*thirteen TRS+ dropper post:
Range of application: XC, All Mountain, Enduro
Setting range: 170mm — 4 positions: 170 | 150 | 100 | 0
Mechanism: Spring loaded cam
Remote lever: Shifter style paddle, bar clamp and matchmaker compatible
Offset: 0mm
Dimensions: 31.6mm x 170mm
Weight:

Seat post: 540g
Remote lever: 65g

Remote: Cable pulled
Assembly
The installation of the seat post went without any major problems — it's here where most seat posts don't differ from each other. The enclosed instructions are easy to understand. The seat clamp shells hold the saddle well in position and thanks to the printed degree display, one can adjust the inclination fast. Using grease against creaking noises, I then built the seat post into the seat tube. The seat height is then adjusted normally. The highest position is meant for pure pedalling. But more about that later.
I have to say, the e*thirteen seat post is truly workshop fit. You can handle it with standard bike tools, there are no nitrogen charges, no liquids — and therefore no mess.
Up and down — is that so difficult?
Then I could finally get going. The four controllable positions were admittedly somewhat unusual on the first meters. But now, after a good half year and the enduro racing season, I have to say that I got used to them and feel that their heights were ideally chosen.
I only use the fully extended 170mm when going uphill or riding on the road. Position 2, at 150mm, is good if you ride over the forest track or the meadow path. I happily used the 100mm position in races in which you have to go a little downhill. I fully retract the dropper post whenever it really goes downhill!
The counter pressure during retraction is very low. The operation of the remote lever, which I mounted to my brake with a matchmaker adapter, is easy. Especially good here is the anti-slip grip tape! The speed of the retraction and extension is not adjustable, which I don't find that bad now. For me, the most important aspect is that it goes down or gets into the desired position quickly — and that it accordingly goes up quickly, too. This really is speedy and is marked with a loud click!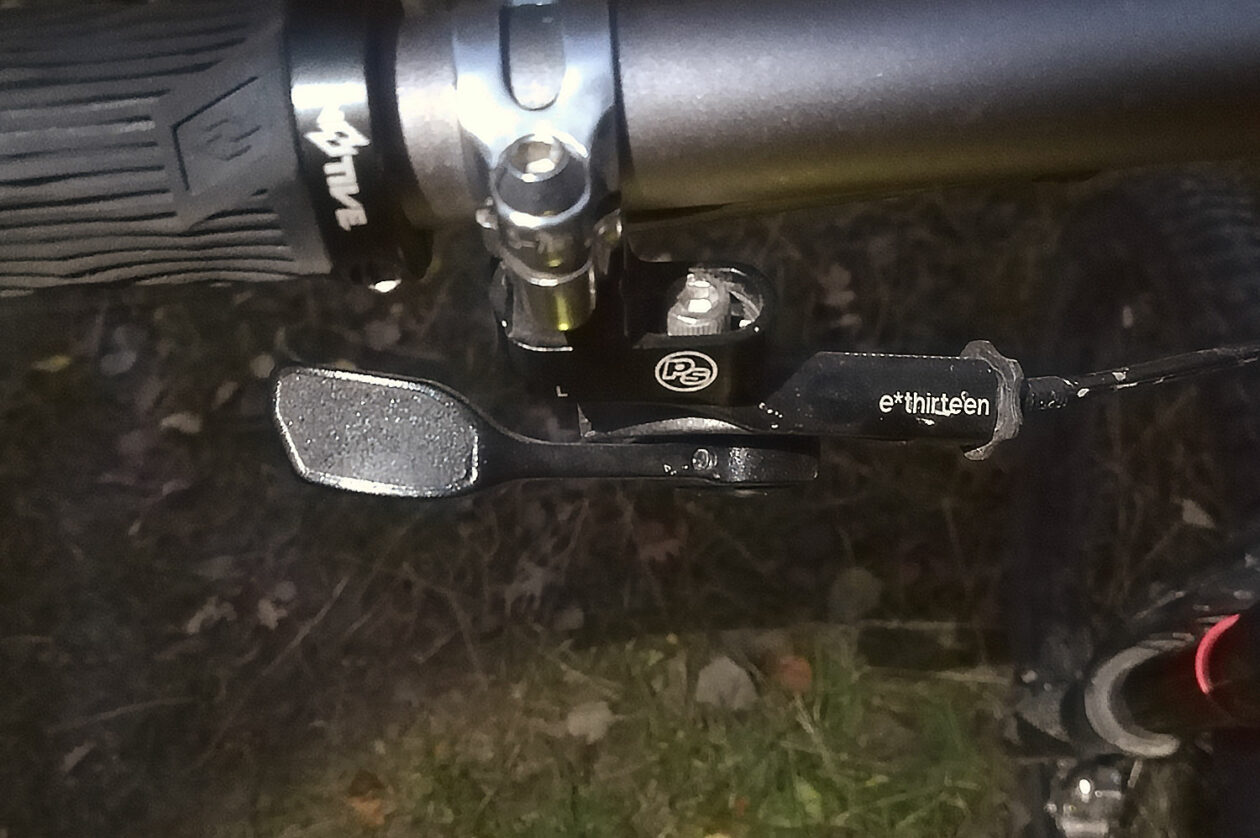 Testing the long-term performance
What are my findings after half a year of endurance testing? After this period, I can say that e*thirteen has produced a stable and reliable seat post that doesn't have to hide at all.
I didn't notice any loss in performance in this period! This is due to the fact that e*thirteen, unlike other manufacturers, doesn't rely on air cartridges, but works with a springs instead. I couldn't notice lateral play which wasn't within the tolerance range, either. That's why I generally found it to be low-maintenance. And whenever something has to be done, it is certainly manageable. The fact that you have to readjust the bowden cable after a certain time or after frequent use is not a deficiency, as it is rather normal.
Unfortunately, from time to time, I couldn't get the remote lever into the desired position. But this could be due to too much thumb pressure or a 'stretched' pull.
Thumbs up or down? My conclusion
If you're looking for a good and robust seat post that requires little maintenance, the e*thirteen TRS+ dropper post is the right choice for you! Getting in and out easily is one thing, but there are more, important factors: easy handling and reliability even after many kilometres and frequent changes in height — and that's exactly what the TRS+ offers! If you're looking for something with an adjustable entry and exit speed however, you won't be happy with it. The price with just over 200 € is completely reasonable. I would install it again!"