The inventors of the mud suit for mountain bikers still burn for their cause and delight us with variants of the — already legendary — dirtsuit. What does the sfd edition have to offer? Which key features has dirtlej come up with? What role does the sfd play in dirtlej's dirtsuit family?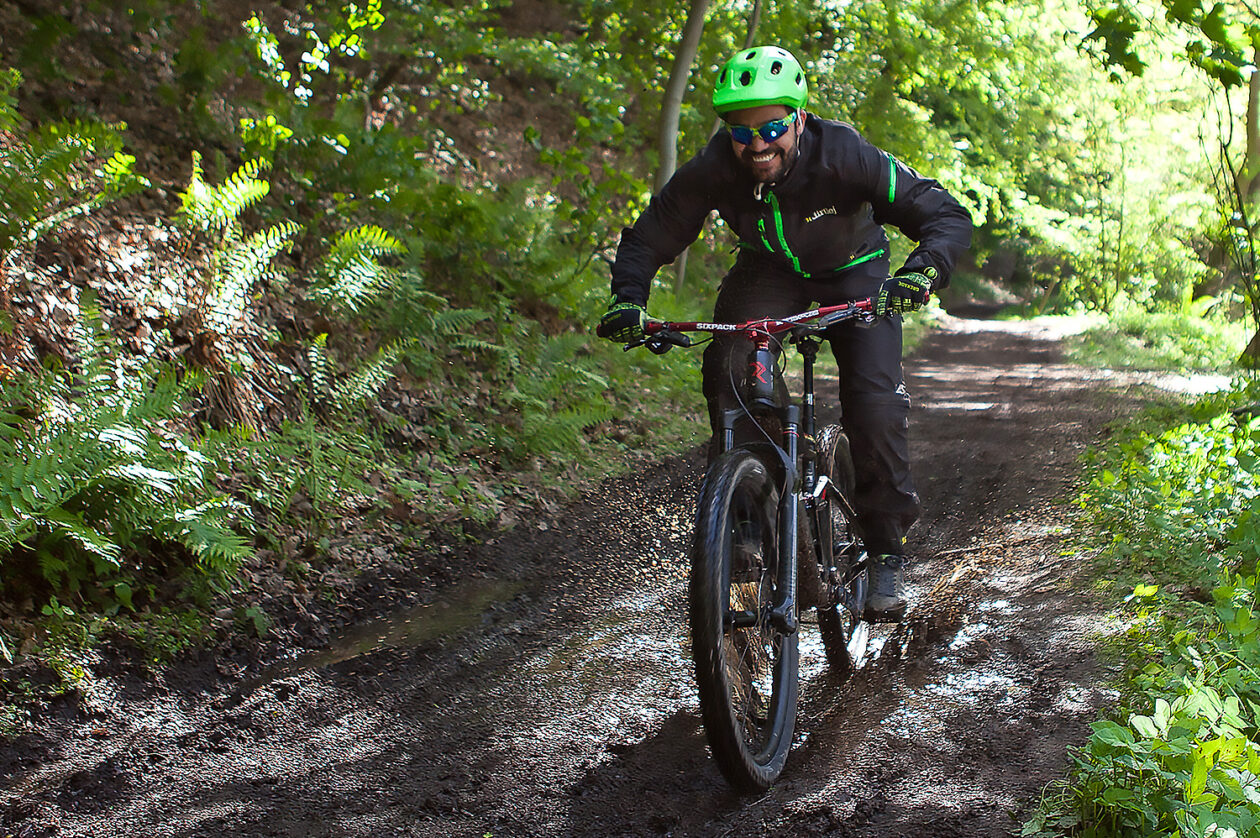 Marc's testing: Straight F***ing Down …
"The days become shorter, the weather turns noticeably cooler. It's impossible to ignore: autumn has reached us. With it comes a hand full of excuses why it's not a good idea to go biking now: wet, cold, uncomfortable … that sounds more like staying on the sofa. The boys and girls from dirtlej have developed a special gravitysuit, the dirtsuit sfd edition (Straight F***ing Down), in order to avoid exactly these excuses.
Quick facts:
Durable and breathable material
15,000mm water column and welded seams
Wide cut for freedom of movement despite protectors
Sophisticated ventilation
Removable arms and legs
High collar to prevent splashing and rainwater coming in
As the lovely name suffix 'Straight F***ing Down' already suggests, dirtlej's sfd edition is intended for gravity riders. The fabric of the sfd is particularly durable to better withstand crashes. In addition, the dirtsuit has a 15,000 mm water column and welded seams. This makes the suit super durable and extremely waterproof. Nevertheless, the material shows a solid breathability, the sweat is reliably transported from the inside to the outside.
If the conditions are still not quite clear, the sfd will not let you down or sweat either. In addition to the eight large ventilation slots, which can be opened or closed individually, dirtlej for the first time offers the possibility to remove arms and legs. This ensures a superb temperature regulation in the suit, even during occasional uphill passages or hot descents, you won't sweat.
If it gets too warm, the sfd dirtsuit can be detached from the arms (above the elbow, leaving a T-shirt sleeve behind) and legs (below the knees). This makes the suit more versatile in terms of temperature and weather conditions.
A hood is deliberately omitted to ensure the correct fit of neckbraces and full face helmets. The dirtsuit sfd edition has a pleasantly high collar so that you don't come home with a wet neck. The cut of the sfd dirtsuit is intentionally kept slightly wider, so that there is enough freedom of movement even with protectors. The long arms and legs — so they are on the suit — can be comfortably adjusted to the body with velcro straps.
sfd conclusion
I was able to make a long term with the suit an can say that it never let me down. I didn't get wet, the suit took two or three harder falls like a champ, impact traces can hardly be seen. The whole package simply makes it possible that you don't have to worry so much about unimportant things, like the weather, and you can focus more on the important issues — can I ride the corner even faster :)? Which trail will be the next one? A tough gravity suit that won't let you make bad weather excuses. Who has always wanted a real best Buddy on wet, cold days, who doesn't stress around or leave you standing in the wet, will find it in the sfd edition!"