I have been looking for a one-piece suit for my races for quite some time. My wish list included a perfect fit, excellent aerodynamics, at least two back pockets, and, of course, a low weight. In terms of style, I wanted something that would suit me as well as my road bike, which is no small feat. The Hive one-piece suit by Alé seems to meet all the demands, at least on paper. But how does it perform at maximum intensity in tough racing action?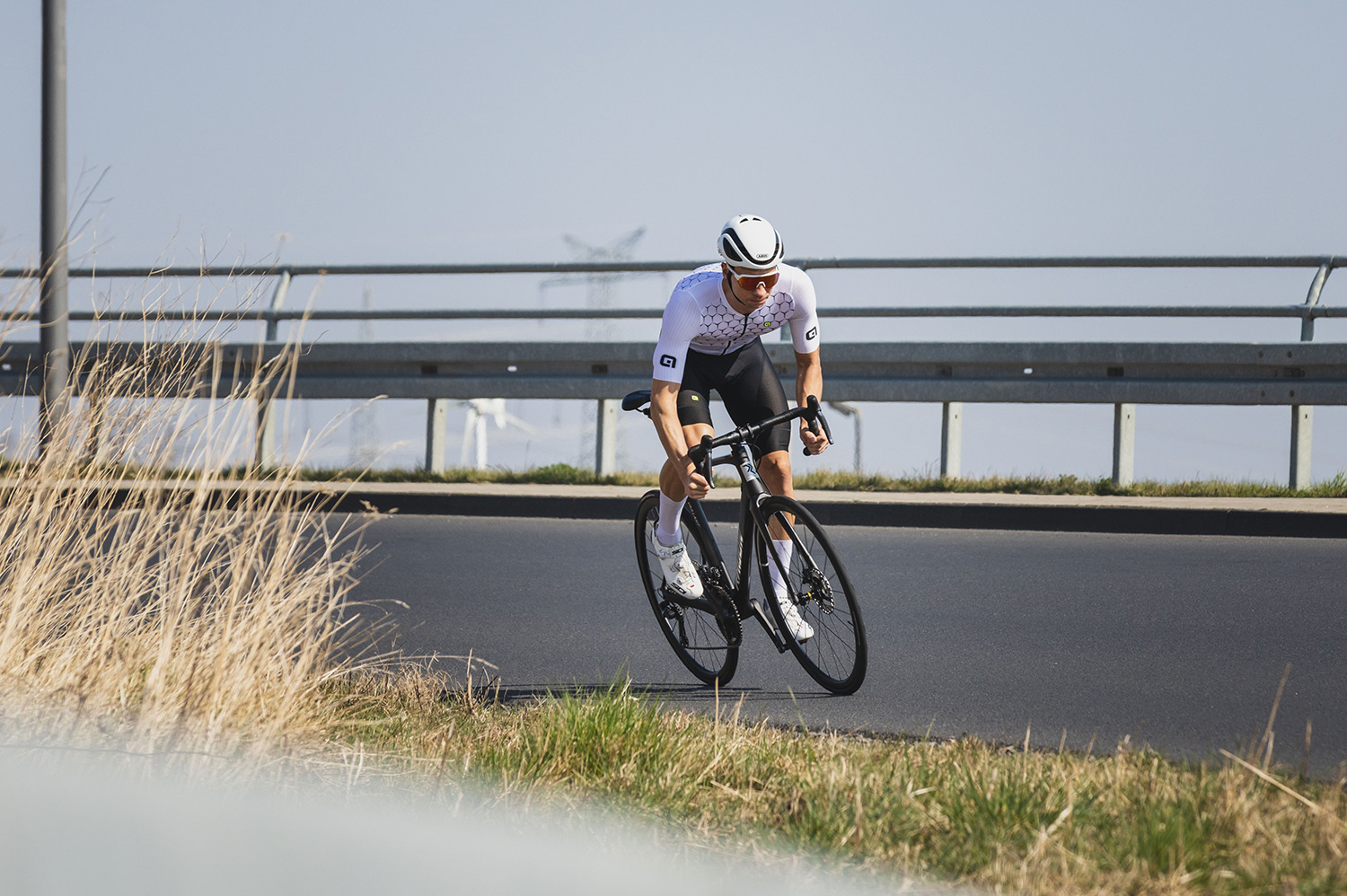 On the road bike
With the new one-piece suit from Alé, nothing is left to chance when it comes to my races. Since every watt saved can make all the difference in a race, the Hive one-piece suit, which has been tested in the wind tunnel, is a good choice. The wind resistance has been reduced to a minimum thanks to its special material and its perfect fit.
The ultra-fine, stretchy microfibre fabric with outer micro-perforated structure promotes perfect ventilation and moisture dries off very quickly. In terms of look, the Hive one-piece suit stands out for its purist, minimalist design. And the manufacturing is also instantly appealing – the one-piece suit is made to a really high standard. Thanks to the barely noticeable flat seams and Alé's body mapping, which gives the material an extremely supple feel, it creates a second-skin sensation and is almost wrinkle-free.
The extremely thin and elastic material protects against UV radiation and thus also against an overheating of the body when under maximum stress during the race. The Lycra Power material, which Alé has named "Zaffiro", ensures perfect compression of the muscles. This fabric is used in certain areas of the bib and adapts perfectly to the shape of the body. The 4HF chamois features elastic microfibre padding and offers a good blend of comfort and efficiency. The one-piece suit is topped off with two easy-to-reach back pockets, a top-quality front zip and a first-class cut.
Alé Hive one-piece suit – ideal for tough racing?
The Hive one-piece suit helps to ease the pain of your sore legs and burning lungs under extreme physical strain, allowing you to focus entirely on the race. That's a buy recommendation from me!